BAE Systems and Oshkosh Defense [OSK] have both submitted their bids for the Army's Cold Weather All-Terrain Vehicle (CATV) production competition, the companies confirmed on Wednesday.
The companies were the two participants in the CATV prototype evaluation phase, which concluded earlier this year, with the Army set to award the production contract likely this summer.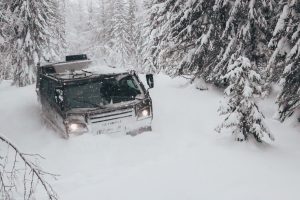 Pat Williams, Oshkosh Defense's vice president and general manager for U.S. Army and Marine Corps programs, confirmed to Defense Daily the company submitted its bid before the March 7 deadline with its offering based on Singapore's ST Engineering's Bronco Family of Vehicle.
BAE Systems also announced its official bid offering the new Beowulf platform, the un-armored variant of its BvS10 tracked all-terrain vehicle.
"Beowulf was on point during the evaluation by demonstrating 100 percent availability, that it's built for this mission and is an ideal solution for the CATV program," Mark Signorelli, vice president of business development for BAE Systems Platforms & Services, said in a statement. "Beowulf's design and capabilities are based on our decades of experience with all-terrain vehicles, and over millions of miles logged through our legacy vehicles currently engaged in operations in very challenging environments like the Arctic."
The Army selected BAE Systems and Oshkosh Defense for the prototype evaluation process last spring, with each company then bringing their platforms up to Alaska for cold-weather evaluations (Defense Daily, April 5 2021).
"The testing included amphibious operations, navigating terrain with varying levels of complexity, starting and operating in extreme cold weather, and most critically, user assessment by soldiers," BAE Systems said in a statement. "Ambient temperatures during the testing approached -50°F, and Beowulf performed in a region of Alaska that experienced one of the most severe winter storms on record."
The CATV program is intended to replace the Army's legacy Small Unit Support Vehicles, also built by BAE Systems and in service since the 1980s, and is a key piece of the Army's new Arctic strategy, released last March, which calls for procuring a new platform to offer improved mobility in cold-weather, mountainous conditions.