BAE Systems confirmed Monday it has been selected as one of two companies to deliver a vehicle for the Army's Cold Weather All-Terrain Vehicle (CATV) prototyping effort, offering its Beowulf tracked platform.
Mark Signorelli, vice president of Business Development for BAE Systems Platforms & Services, told reporters Beowulf, the new unarmored variant of the company's BvS10 platform, has been extensively tested in Arctic conditions and has capability for amphibious operations.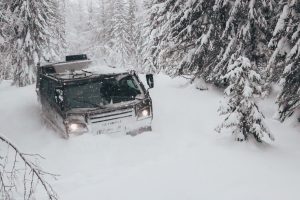 "This is a vehicle that has literally millions of miles of history in its legacy vehicles and its sister vehicles in Arctic conditions. And I can't imagine that there is a better fit for the Army's needs than what Beowulf can provide," Signorelli said.
The Army said last week it selected two companies to deliver CATV prototypes by mid-June, which will then go up to Alaska for evaluation from August through December, before awarding a production contract in the third quarter of fiscal year 2022 (Defense Daily, April 5).
Oshkosh Defense [OSK] announced on April 5 it has teamed with Singapore's ST Engineering to offer a version of its Bronco 3 platform.
The CATV program to replace the Army's legacy Small Unit Support Vehicles (SUSV), also built by BAE Systems and in service since the 1980s, is a key piece of the Army's new Arctic strategy, released last month, which calls for procuring a new platform to offer improved mobility in cold-weather, mountainous conditions (Defense Daily, March 16)
BAE Systems, like Oshkosh, will also deliver a general purpose vehicle along with a cargo version, Signorelli confirmed, while noting Beowulf is "easily configurable for multiple missions,"
Keith Klemmer, BAE Systems' business development lead for CATV, told reporters a low-rate initial production deal for CATV following the downselect decision would likely cover 14 vehicles.
Signorelli said he doesn't see production of Beowulf transitioning to the U.S. from Sweden where the company's Hägglunds division currently builds the BvS10 armored vehicle for Sweden, Norway, Austria France and the U.K.
"Right now, given the procurement quantities and the schedule, it wouldn't be cost-effective to transition production to the U.S.," Signorelli said. "If the Army decides to buy as many Beowulfs as it bought [SUSVs], we might have a different conversation. But that's certainly not the plan today."
BAE Systems, however, does source Beowulf's engine, transmission, and hydraulic system from U.S. suppliers, according to Signorelli.
Signorelli noted while Beowulf is not an "open ocean swimmer," like the company's Amphibious Combat Vehicle, it is able to traverse up waterways and rivers and has been extensively tested in both Arctic and swamp-like conditions in Sweden.
"Since [2015], we have taken it extensively through Arctic testing and swim testing. Much of Sweden in the summertime becomes what we would call bogs, and so the vehicle has been exercised in that environment," he said.