The Army has selected four vendors to move forward in its Robotic Combat Vehicle-Light program , with each having the opportunity to submit vehicle proposals, as the service plans to award a contract to deliver prototypes next spring.
The National Advanced Mobility Consortium announced Oct. 18 HDT Global
, Oshkosh Defense [OSK], QinetiQ North America and Textron Systems [TXT] had successful white papers and will be issued requests for prototype proposals (RPP).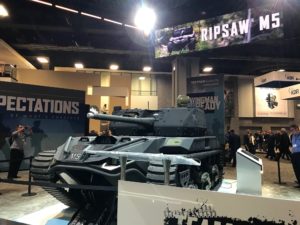 Several vendors brought their RCV offerings to last week's Association of the United States Army conference in Washington as the Army prepares to ramp up demonstrations with potential platforms for both the light and medium variants (Defense Daily, Oct. 15). 
Brig. Gen. Ross Coffman told reporters at the AUSA show RPPs for both RCV-L and RCV-M will be delivered before November, with plans to hold demonstration next March to put the platforms through a platoon-level operations experiment.
The Army will then award prototype contracts for one vendor to build four RCV-Ls and one vendor to build four RCV-Ms, according to Coffman.
Those vehicles will then participate in a 2021 experiment going through company-level operations, before ultimately informing a 2023 decision on how the Army wants to construct its robotic vehicle fleet including the addition of an RCV-Heavy.
Textron Systems, along with its team of Howe & Howe and FLIR [FLR], unveiled its Ripsaw M5 platform last week, which company officials said could be scaled down for RCV-L or up to a heavier version for RCV-M. 
QinetiQ and its partner Pratt & Miller also announced at AUSA a new partnership to offer a variant of the Expeditionary Modular Autonomous Vehicle (EMAV) for RCV-L.
Germany's Rheinmetall brought its Wiesel Wingman autonomous vehicle to AUSA, which was pitched as an option for RCV-L, but was not downselected to move to the prototype proposal phase.