The Army will receive initial prototypes of its next-generation squad weapons (NGSW) in spring 2020, with plans to provide feedback this fall to the three vendors selected for the prototype program to finalize design reviews.
Last week, the Army said it selected Textron Systems [TXT], General Dynamics [GD] and SIG Sauer for the NGSW prototype phase, to test offerings for rifles and ammunition, as it looks to field new systems in 2022 that will begin replacing the M4 rifle and M249 Squad Automatic Weapon.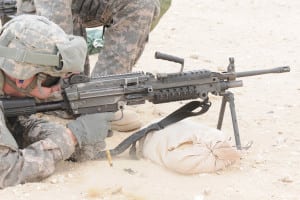 Wayne Prender, Textron's senior vice president for applied technologies & advanced programs, told reporters on Tuesday the prototype program will include the NGSW rifle, automatic rifle, common cartridge and ammunition, with the company set to receive feedback from its proposal and bid samples this fall from the Army.
"We will be rolling that into our design process, and then going through a design review with the Army to make sure everybody is on the same page with what will be delivered," Prender said. "We have been selected with our belt-fed automatic rifle, which provides great capability at a significantly lower weight than what exists in the inventory today, as well as a magazine-fed rifle. Both of those systems will use the same common cartridge, building off of our cased-telescoped ammunition."
The three companies each received eight-year prototype awards, with the first 27 months of the deal encompassing delivery of 53 new rifles, 43 automatic rifles and 850,000 rounds of ammunition as well as a series of evaluations and soldier touchpoints.
"In the springtime is when we will be delivering our first prototypes. Those prototypes will be in relatively small quantities. They will be fully functional, but that will be an opportunity to get some initial feedback on the ultimate design from the users," Prender said. "After those 27 months, there are a number of activities that can move forward whether it be moving right into an initial low-rate production followed by fielding and first unit-equipped or it could be additional prototyping and maturation of the weapon systems."
The Army has said a production contract for NGSW could include up to 250,000 weapons and 150 million rounds of 6.8mm ammunition. 
Textron will display its NGSW offering for the first time at an Association of the United States Army conference in October. 
SIG Sauer also detailed its NGSW prototype offering on Tuesday, which consists of 6.8mm hybrid ammunition, a lightweight machine gun, rifle, and included suppressor.
"We are honored to have been selected for the Next Generation Squad Weapons program bringing increased lethality to the warfighter over the legacy weapons," SIG Sauer CEO Ron Cohen said in a statement. "At the core of our submission is our newly developed, high-pressure, 6.8mm hybrid ammunition that is utilized in both weapons, and is a significant leap forward in ammunition innovation, design, and manufacturing."
The company said its ammunition reaches "increased penetration at greater distances," while its automatic rifle is designed for the Army's goal to find a weapon "with the firepower and range of a machine gun, coupled with the precision and ergonomics of a rifle."
"The U.S. Army challenged the industry to bring forward significant improvements to the legacy weapons. The SIG Sauer NGSW-AR is lighter in weight, with dramatically less recoil than that currently in service, while our carbine for the NGSW-Rifle submission is built on the foundation of SIG Sauer weapons in service with the premier fighting forces across the globe. Both weapons are designed with features that will increase the capabilities of the soldier," Cohen said.