The 2019 iteration of the Air Force's annual Schriever Wargame, launching Sept. 4, will include a global scenario with a focus on the U.S. European Command area of responsibility, the service said Sept. 3.
The exercise, which will be conducted by Air Force Space Command at Maxwell Air Force Base, Alabama, will be set in the year 2029, explore "critical space issues" and examine how multiple space-related agencies can be integrated within a multi-domain environment, said an Air Force statement released Monday. International "Five Eyes" allies including Australia, Canada, New Zealand and the United Kingdom will participate, along with about 350 U.S. military and civilian experts from over 27 commands and agencies, including non-DoD offices such as NASA and the Departments of Homeland Security, Transportation, State and Commerce.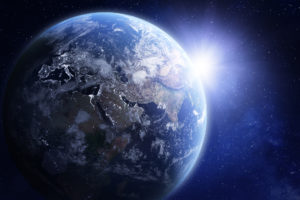 "The SW 19 scenario depicts a notional peer competitor seeking to achieve strategic goals by exploiting multi-domain operations," the statement said. Along with the global scenario focused on Europe, "the scenario will also include a full spectrum of threats across diverse, multi-domain operating environments to challenge civilian and military leaders, planners and space system operators, as well as the capabilities they employ." Last year, the Wargame included a scenario focused on the U.S. Indo-Pacific Command (INDOPACOM) area of responsibility.
This year's Schriever Wargame begins less than one week after the formal re-establishment of U.S. Space Command, the Pentagon's newest geographic combatant command dedicated to the space domain (Defense Daily, Aug. 29). One of the exercise's objectives is to "inform people, processes, and technologies to advance USSPACECOM's joint/combined operational missions," as well as explore the opportunities and challenges of synchronizing effects from national, commercial and coalition partnerships to protect and defend the space enterprise.
Other goals include examining unity of command to integrate space operations and authorizations spanning various classification and organizational levels; determining a shared understanding of responsible behaviors in the space domain; and investigating whole-of-government and coalition options to control escalation across all domains.