The leader of the Senate Armed Services Committee (SASC) said Wednesday the panel will urge the Pentagon to establish a plan for rapidly replenishing its munitions stockpile for weapons that have been transferred to Ukraine.
"I think [the Pentagon is] going to move rapidly and we're going to encourage them, which is the polite way to say we're going to encourage them to do it rapidly," Sen. Jack Reed (D-R.I.), the SASC chair, told reporters. "We are on it. They have the resources. And, also, [the Pentagon] gets it. They don't want to be able to say, 'Well, we're on alert but we don't have resupply, so good luck guys.' That's not something that any secretary of defense or chairman wants to tell the troops."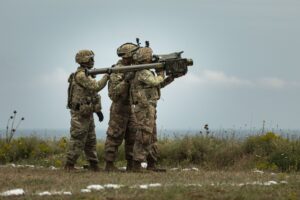 Reed said the critical piece for getting production lines moving to replenish stockpiles of Stinger and Javelin missiles, which he called "critically important weapons," is ensuring the supply chain for required specialized parts and electronics is in place.
"The [production] lines are still open but they have not been operating at peak capacity because the demand was not there. And the real problem, I think, is not so much the final assembly line. It's subcontractors. And it's parts like electronic parts, which are very difficult to get and even more difficult now because COVID has disrupted international supply chains dramatically," Reed said.
William LaPlante, nominee to be the Pentagon's acquisition chief, told SASC during his confirmation hearing on Tuesday one of his immediate priorities would be to ensure "hot production lines" are running to replenish withdrawn munitions stocks (Defense Daily, March 22).
In response to whether a one-time investment should be made this year to get those production lines moving and what form that funding would take, Reed said whether it will take a reprogramming request depends on the scale of funding that is required.
"We have to be very careful to define what the problem is and then get the Pentagon to go after that problem. And they've got resources already. If they need more, they can come back to us and I think we'd be very open to that," Reed said.
Reed also noted the $13.6 billion supplemental for emergency aid to Ukraine, which was passed along with the $1.5 trillion fiscal year 2022 omnibus spending legislation, included $3.5 billion to replenish defense stocks for equipment provided to Ukraine.
The leaders of the House Armed Services Committee have urged the Pentagon to establish a plan for replenishing the department's stockpile of Stinger missiles that've been transferred to Ukraine, to include pushing for rapid development and fielding of a new short range air defense (SHORAD) system (Defense Daily, March 18).
Reed said any discussion on upgrading Stingers as part of replenishing the stockpile would have to factor in considerations beyond just the firing system, to include items such as target acquisition systems and new radars.
"I think that the analysis has to be done in a systematic way. How do you defend the airspace? Do we need more Stingers or do we need more mobile, ground-based, longer-range missile systems? And I think we're going to learn a lot from the experience the Ukrainians are undergoing right now," Reed said. "Just jumping into let's get another bigger, better Stinger I think misses the point. We have to constantly look at the system. We have to look at all the components."