The leaders of the House Armed Services Committee are urging the Pentagon to establish a plan for replenishing the department's stockpile of Stinger missiles that've been transferred to Ukraine, to include furthering development of a potential new short range air defense (SHORAD) system.
Rep. Adam Smith (D-Wash.) and Mike Rogers (R-Ala.), the HASC chair and ranking member, respectively, sent a letter Friday to Secretary of Defense Lloyd Austin and Army. Gen. Mark Milley, Chairman of the Joint Chiefs of Staff, that included a call to prioritize getting a modernized SHORAD system in place that could begin to be delivered within 36 months to help replenish the stockpile.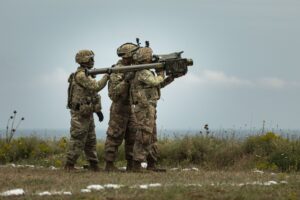 "The committee urges focus on the most rapid possible development, testing, and fielding of a more capable SHORAD system and would favorably consider an appropriate reprogramming request to get this started," Smith and Rogers wrote.
The Army in November 2020 issued a Request for Information soliciting industry's potential solutions for a replacement to the current Raytheon Technologies [RTX]-built Stinger missile, while no further progress on the program has been detailed to date (Defense Daily, Nov. 12 2020). 
The RFI indicated the Army could plan to award a contract by fiscal year 2026 to procure 8,000 systems, detailing interest in finding a new surface-to-air missile that must be man-portable, delivered as a completely assembled weapon and capable of being integrated with the Stinger Vehicle Universal Launcher.
The U.S. has committed to transferring 1,400 Stinger missiles to Ukraine to date, including 800 as part of a new $800 million military equipment package President Biden detailed on Wednesday in support of Kyiv's ongoing effort to fend off Russia's invasion of the country (Defense Daily, March 16). 
Smith and Rogers also noted the $13.6 billion supplemental for emergency aid to Ukraine passed along with the $1.5 trillion FY '22 omnibus included several billion dollars for additional military assistance, to likely include further Stinger missile transfers.
"The committee notes, however, the apparent absence of a Department of Defense plan to meet SHORAD replenishment requirements for not only our U.S. stocks of Stinger systems, but those of other contributing allies and partners. We believe this is a matter of the highest urgency. Events in Europe have demonstrated the importance of such a capability and the need for the Army and Marine Corps to develop a plan to invigorate the industrial base, buy-down strategic risk in our current capability, and accelerate the development of a follow-on SHORAD system that can be rapidly fielded," Smith and Rogers wrote.