The Army is seeking industry's input on potential missile interceptor offerings that could replace the current Stinger system for its Man-Portable Air Defense System (MANPADS), with plans to award a contract by fiscal year 2026.
A new Request for Information notice details plans to upgrade the MANPADS and acquire up to 8,000 missiles as part of the overall Maneuver-Short Range Air Defense (M-SHORAD) modernization effort.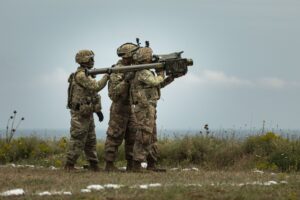 "The current Stinger inventory is in decline. The Army is conducting a SHORAD study which will inform efforts to modernize and to address emerging threats, which may increase the demand for MANPADS capable missiles," Army officials wrote in the RFI, noting the current Stinger-Reprogrammable Microprocessor will become obsolete in FY '23.
A full and open competition will be held to find a new MANPADS surface-to-air missile that must be man-portable, delivered as a completely assembled weapon and capable of being integrated with the Stinger Vehicle Universal Launcher.
"The system must be capable of defeating fixed-wing ground attack aircraft, rotary wing aircraft, and Group 2-3 Unmanned Aircraft Systems with capabilities equal to or greater than the current Stinger missile (with Proximity Fuse capability)," officials wrote in the notice.
Responses to the RFI are due to the Army by Dec. 11.