QinetiQ North America and its partner Pratt Miller
delivered the first Robotic Combat Vehicle-Light (RCV-L) prototype to the Army on Nov. 5, the companies said Thursday.
This is the first of four RCV-L test vehicles that the QinetiQ will deliver to the Army, which will then use the robotic vehicles during a company-level demonstration in 2022 to inform the future program of record.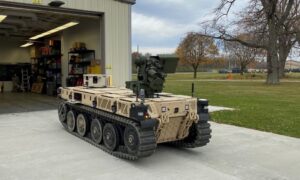 "This delivery will provide the Army with an unmanned vehicle ready for integration into ground combat operations. Our team's ability to deliver this unparalleled and versatile capability on schedule while working through the unexpected challenges of the COVID-19 pandemic is commendable," Laurent Lannibois, QinetiQ's RCV program manager, said in a statement. 
Earlier this year, the Army awarded the RCV-L prototype deals to QinetiQ and Pratt and Miller to deliver a variant of the a variant of the Expeditionary Modular Autonomous Vehicle (EMAV). The contract includes an option for the Army to potentially procure 16 additional vehicles (Defense Daily, Jan. 9). 
The Army also selected Textron [TXT] and its team of Howe & Howe and FLIR [FLIR] to deliver the Ripsaw M5 for RCV-Medium, with the first vehicle set to be delivered before the end of the year (Defense Daily, Oct. 8). 
Michael Rose, a robotic combat platforms official with the Army's Ground Vehicle Systems Center, said the plan is to now integrate the RCV-L with autonomous mobility tools and government-furnished software to enable a tethered UAS payload and a Common Remotely Operated Weapon Station–Javelin.
"The delivery of the first RCV-L is an exciting result of numerous government organizations and industry working together to achieve our first combat ready robotic vehicle. This unit is the first of four vehicles developed in support of the Manned-Unmanned Teaming Soldier Operational Experiment, planned for 2022, and represents a significant milestone for the program," Rose said in a statement. 
Army officials recently shared a series of lessons learned to date for the RCV program, including calling for new capabilities to further reduce the cognitive burden of the robots' human operators (Defense Daily, Nov. 6).