General Motors [GM] Defense said Tuesday it has received $1 million to join Oshkosh [OSK] and
SAIC [SAIC] in the Army's Infantry Squad Vehicle prototype program to find a new lightweight air-droppable platform.
GM will deliver two test vehicles to the Army this fall, with its ISV offering based off the ZR2 variants of the company's Chevrolet Colorado midsize truck.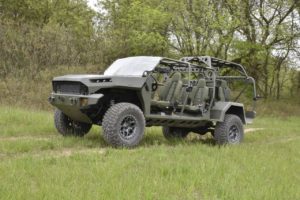 "Our ISV entry is a fully-integrated platform that leverages decades of GM's engineering, manufacturing and quality expertise at scale to provide the most cost-efficient, reliable and effective answer possible to meet and exceed the Army's demanding requirements," David Albritton, president of GM Defense, said in a statement.
The company's ISV offering incorporates 70 percent commercial-off-the-shelf components, including "long-travel rear leaf springs, jounce shocks, front upper control arms, steel driveshaft, underbody skid plates and ball-spline half shafts."
Oshkosh, in partnership with Flyer Defense, and SAIC, in a team with Polaris [PII], have also been tapped to deliver prototype vehicles for ISV, with the Army planning to make a production decision next spring as it looks to eventually purchase around 650 vehicles through 2024 (Defense Daily, August 23).
Delivery of the prototype vehicles is expected to take place in mid-November.
The National Advanced Mobility Consortium (NAMC) announced Tuesday that AM General and Mettle Ops also submitted bids for the ISV prototype phase.
While the two companies' offerings won't move forward in the program, the Army deemed their proposals "technically acceptable" and they will remain in the NAMC's "electronic basket" for other potential government customers to assess.
"It gives a second life to the projects that come in," Alissa Roath, NAMC's director of operations, told Defense Daily. "ISV is kind of a unique project because it's for a full vehicle. We usually see that for components."