CONCORD, N.C. — GM Defense [GM] on Tuesday named Steve duMont, a former vice president of business development at Raytheon Missile Systems [RTX], as its new president, on the same day as it opened a production facility in North Carolina for the Army's Infantry Squad Vehicle.
duMont told Defense Daily he is focused on growing the company to include not only pursuing new vehicle production efforts but also teaming opportunities and advanced electrification technologies that leverage the massive research investment from the larger General Motors [GM] parent company.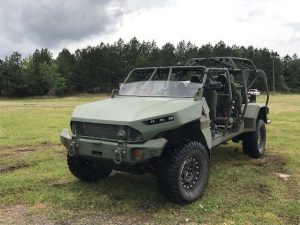 "I came onboard with the intent to grow the business, and that's what I'm going to do. I'm focused on what are those next things that we can do where we can leverage this model of taking the commercial DNA from General Motors and smartly infuse it into this defense company," duMont said during a visit ahead of the production facility opening. "When it comes to building the best vehicle for the warfighter, we do that as well as leveraging those technologies around autonomy and connected vehicles that are examples of where we could become a great teammate to other companies out there."
After returning to the defense market in 2017, GM Defense secured a $214.3 million production deal last June to build the Army's new lightweight air-droppable ISV, based on the ZR2 variants of the company's Chevrolet Colorado midsize truck, which duMont said showcased the company's ability to move at the "speed of relevance" to rapidly meet customers' requirements.
"I think it's huge. I think it was a great win for the team, first of all, just to demonstrate that GM is back in the defense business. To have a platform like this where we can demonstrate how we can move with that speed of relevance and how we can take something from a concept to production in days and weeks, not months and years," duMont said. "A vehicle like ISV, for us, focuses on our core competencies. We know how to do this. We built a great truck based on a great truck."
The new 75,000-square foot production facility in Concord, N.C. was built in just over 90 days, according to the company, and will utilize digital operating operating systems and Bluetooth-enabled tools to manufacture around 14 vehicles per month.
"The advanced tools will help ensure the highest level of quality while enabling greater efficiencies throughout the ISV build. Now the newest and one of the most advanced production lines for tactical wheeled vehicles, the GM Defense Concord facility will support ISV full rate production," GM Defense said in a statement.
GM Defense announced in October it had delivered the first ISVs to the Army about 120 days after contract award, with the current deal covering production of 649 vehicles. The Army has a total acquisition objective for 2,065 vehicles (Defense Daily, Oct. 27). 
The company said it has produced 27 ISVs to date during low-rate initial production, with the program set to enter initial operational test and evaluation in mid-August.
Ahead of the facility opening, GM Defense showcased an all-electric version of the ISV that functions as a concept demonstrator for the company's interest in exploring advanced battery technologies for potential future applications.
"It's a concept vehicle. It's not meant to be the end solution as much as it's an example of how we can take our internal products, like batteries, vehicle chassis, vehicle systems, and assemble them into different configurations. That's a huge advantage that we have," Jeff Ryder, GM Defense's vice president of Growth and Strategy, told Defense Daily.
duMont noted General Motors is set to invest $27 billion over the next five years in its push toward vehicle electrification, with several company officials adding that leveraging investments made in the commercial side positions the defense business as a potential horizontal integrator for partnership opportunities.
"That's a massive investment to build the foundation of the all-electric future for GM. I looked at that and saw an immediate alignment with where the Defense Department will ultimately likely go," duMont said. "We're all about taking the benefit of the great corporation that General Motors is and bringing that deep bench of capability and innovation and investment in technology to the defense market."
With the Army's move to get after enhanced connectivity on the battlefield, with programs such as the future Optionally Manned Fighting Vehicle, duMont sees additional opportunities to team up on initiatives that leverage the company's deep investment portfolio.
"We haven't formalized anything yet, but we're looking very closely at how do we leverage the technologies that we bring in the development of the Army's Optionally Manned Fighting Vehicle," duMont said. "I look at connected vehicles, which General Motors has done probably longer than anyone. You look at what our defense customers need today, they need to operate in a more connected battlespace. The ability to bring connectivity between vehicles is an example of a technology that we can leverage on our own vehicles or, perhaps, on other vehicles as well."