General Dynamics Land Systems [GD] said Wednesday that GM Defense
[GM] has joined its team vying for the Army's Optionally Manned Fighting Vehicle (OMFV) competition.
"Our team continues to grow stronger and gain momentum as we aggressively push to provide this important capability for the Army," Don Kotchman, GD Land Systems' vice president and general manager of U.S. operations, said in a statement. "This collaboration with commercial powerhouse GM Defense brings together world-class capabilities from both companies to meet the future needs of the U.S. Soldier operating in a multidomain environment."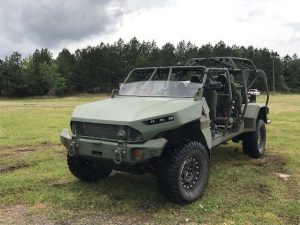 GD Land Systems is one of five competitors for the Bradley replacement program, along with Oshkosh Defense [OSK], BAE Systems, Rheinmetall and armor supplier Point Blank Enterprises, with each firm currently working through a digital design phase to refine OMFV concepts.
The Army completed initial concept reviews with the OMFV competitors this past fall, with data assessments and feedback provided directly from lead program officials informing iterative work on the platform concepts (Defense Daily, Oct. 12).
GM Defense now joins unmanned aerial vehicles firm AeroVironment [AVAV], artificial intelligence and autonomy developer Applied Intuition and General Dynamics Mission Systems as a member of GD Land Systems' OMFV team.
"We're very excited to be joining General Dynamics Land Systems' established and highly experienced OMFV program team," Steve duMont, president of GM Defense, said in a statement. "I see tremendous synergies as we seek to leverage our core capabilities in integrated vehicles, power and propulsion and mobility and autonomy to support the OMFV program. We look forward to collaborating with a great company such as General Dynamics Land Systems, as we combine and leverage our advanced technologies, digital design expertise and manufacturing scale to help produce the most capable infantry fighting vehicle for the U.S. Army warfighter."
duMont previously detailed GM Defense's interest in exploring opportunities to participate in programs such as OMFV during a discussion last spring with Defense Daily at the opening of the company's new production facility in North Carolina to build the Army's Infantry Squad Vehicle (Defense Daily, May 4 2021).
"I look at connected vehicles, which General Motors has done probably longer than anyone. You look at what our defense customers need today, they need to operate in a more connected battlespace. The ability to bring connectivity between vehicles is an example of a technology that we can leverage on our own vehicles or, perhaps, on other vehicles as well," duMont said at the time.
A Request for Proposals for the next two phases of OMFV is set to be released this summer, during which the service will then select up to three vendors in the second quarter of fiscal year 2023 to move onto the design review period followed by a physical prototype testing phase.