Textron Inc. submitted its prototype offering for the Marine Corps' Advanced Reconnaissance Vehicle (ARV) program, a purpose-built vehicle it named the Cottonmouth, the company revealed Tuesday.
The ARV effort began as a Marine Corps effort to replace the Light Armored Vehicle-25 (LAV-25), originally built by General Dynamics [GD] and in use since the 1980s, with the new vehicles to be used in light armor reconnaissance battalions. The Marine Corps intends to replace its current fleet of over 600 LAV-25s with 500 ARVs.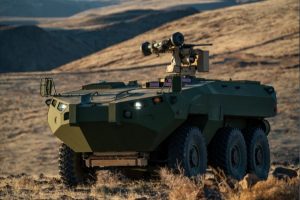 According to the service, over time the Marine Corps started viewing ARV less as a direct replacement for LAV-25 than as a vehicle equipped with a suite of advanced reconnaissance capabilities with an open system architecture that can sense, shoot, move, communicate, and be transportable as part of the expeditionary advanced base operations (EABO) concept.
The Marine Corps' Request for Prototype Proposal (RPP) for the ARV was released on March 30 and was due on May 3. 
The roughly 30-day proposal turnaround was quick and "those that waited around for the RPP weren't working with the Marines, weren't in our case investing for over a year in a prototype, are going to have a very difficult time meeting all of the requirements that the Marines are asking for…why we're going with a purpose-built system," David Philips, Textron senior vice president for Land Systems, told reporters during a press call Monday.
Philips said that according to the RPP, for this immediate prototype the Marines are "asking for a naval sensor node, and we see that as a next-generation scout vehicle, requiring multi-domain [Intelligence, Surveillance and Reconnaissance] capability. The things that they want: organic tethered [unmanned aircraft systems] with auto-launch and retrieval. Again they want an open architecture approach – that's an imperative for them to allow easy integration of any payload capability that they want."
"But immediately they want us to integrate mature technologies to include a whole bunch of United States government-furnished equipment that they're providing for us to integrate into the system. Things like battle management systems, communications suites, among others," he continued.
Textron underscored it has already tested loading and offloading the Cottonmouth onto the Ship-to-Shore Connector (SSC) Landing Craft Air Cushion (LCAC-100 class), which it is already building for the Navy. The Marine Corps requires four ARVs to fit on one SSC.
Philips said the service is also looking for a vehicle that possesses the size, weight and power to accommodate the various planned systems and "still stay within their vehicle cone index or their ground pressure. They want these systems to be under 18-and-a-half tons, and again, they want to fit four on a Ship-to-Shore Connector. The vehicle not only has to have outstanding land mobility, it has to swim in the ocean. It has to depart from connectors and it has to transition through the surf zone."
According to an August 2020 notice posted at the beta.sam.gov website, the government solicited prototype proposals from members of the National Advanced Mobility Consortium (NAMC). The government anticipated follow-on production funding estimated at $1.8 to $6.2 billion over five years. The final solicitation was posted to the NAMC website.
Philips added the Marine Corps is expected to select up to three bidders to design and build a prototype vehicle to go through testing. The next phase after that is an engineering and manufacturing development effort that would involve up to two competitors that may take place around fiscal year 2024, he added.
He said Textron decided to start investing in a prototype about a year ago given the signals it was getting from the Marine Corps via industry day and draft RPP documents and that it felt like it fit well within Textron's capabilities. The company has already invested over $6 million in developing the prototype.
Textron used a clean-sheet design approach to develop the Cottonmouth to make sure it has the proper combination of land and amphibious mobility as well as a fully open architecture design to it can easily integrate any systems onto the vehicle, Philips said
Philips argued this process can work since they similarly used a clean-sheet approach for the Army's robotic combat vehicle competition and are now delivering four prototype vehicles towards that program.
He said the company de-risked the timeline by having a prototype that meets most high-level requirements, testing it for 748 miles at the National Automotive Test Center against reconnaissance vehicle mission profiles outlined by the service, incorporated dual mechanically-driven water jets for land and water propulsion, and designed it for seaworthiness up to two to three feet of waves.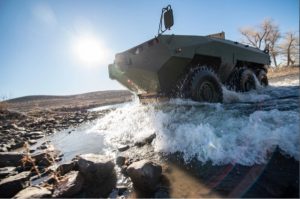 Moreover, Textron boasted it created a Cottonmouth system integration lab at its Hunt Valley, Md. facility to test sensor suites on the vehicle's virtual environment before physically integrating new capabilities. 
"So that'll help us quickly work through all of these sensor suites that the government is going to make available to us – government furnished, We can try them out in the virtual environment first before actually integrating them into our vehicles," Philips said.
Textron plans to build a second vehicle if chosen for this prototyping effort so it can deliver one to the Marines for their testing efforts and keep another for internal developments.
Philips said the RPP and the service's Force Design 2030 effort is leading the Marine Corps towards reconnaissance platoons, with sets of six diverse vehicles, each with a unique mission.
"The first of which is what we're developing in a prototype, what they're called the quarterback, the communications and control, the C4ISR sensor node, the quarterback of this future platoon construct. And there are five other variants in the future."
Other variants may include long-range precision fires, active electronic warfare, counter-UAS, UAS and basic reconnaissance and surveillance and intelligence-gathering. 
"There are these different variants and I think the combination of them form a team where you don't need a one-for one [LAV replacement], you become more effective with less vehicles," Philips said.
According to Philips, this initial variant seats two vehicle operators and a crew of five.
Textron's marketing images of the Cottonmouth include a notional weapon system mounted on the vehicle with a Kongsberg CROWS-J with a .50 caliber machine gun and anti-tank missile system, Textron ARV program manager Luke Wright, told reporters.
Textron has partnered with Elbit Systems [ESLT] to provide its 360° Situational Awareness vision suite.
"The system will bring together video images from outside the ARV, overlay terrain and obstacle information, along with navigation and battlespace symbology, and present a single image of the ARV's surroundings to all crew members within the vehicle," Elbit said in a statement.