General Dynamics' [GD] Land Systems division this week announced it submitted a prototype proposal for the Marine Corps' Advanced Reconnaissance Vehicle (ARV) prototype competition.
GD is the incumbent that built the current fleet of over 600 Light Armored Vehicle-25s (LAV-25) that the service aims to replace with 500 ARVs.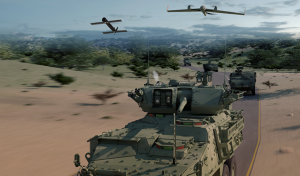 GD's confirmation comes after Textron [TXT] said it submitted its own offering as it underscored it already built an initial prototype as a clean-sheet design, which it calls the Cottonmouth (Defense Daily, May 4).
David Philips, Textron senior vice president for Land Systems, told reporters that according to the Marine Corps' Request for Prototype Proposal (RPP) the competition had a March 30 to May 3 bidding window.
Philips said the RPP noted the vehicle would act as a naval sensor node. Other requirements include an organic tethered unmanned aircraft system with auto-launch and retrieval; the vehicle must weigh no more than 18.5 tons; four vehicles must be able to fit on a single Textron LCAC-100 class Ship-to-Shore Connector; use an open architecture approach to allow easy integration of future payloads; and have the built prototype start by integrating government-furnished equipment (GFE) like battle management systems and communications suites.
The ARV also has to depart from connectors and be able to transit part of the ocean in the surf zone.
"General Dynamics Land Systems has aligned with the Marine Corps' 10-year transformational initiative, a key portion of which seeks to build a 21st-century reconnaissance capability that is highly mobile on land and in the water," Phil Skuta, GD Land Systems director of Business Development for the U.S. Marine Corps and Navy, said in a statement released May 3.
"This multi-domain capability will be able to control air and ground robotics and provide critical reconnaissance information through onboard and networked sensors," he continued.
GD Land Systems Vice President and General Manager for U.S. operations Don Kotchman said their industry team is focused on early integration of transformative technologies required to deliver this capability. This includes advanced electronic architecture, artificial intelligence, autonomy and robotics.
"We have ensured the growth margins and modular open architecture necessary to rapidly incorporate new technology," Kotchman said.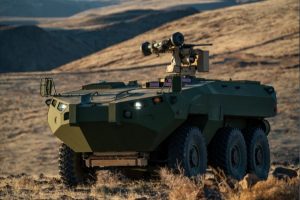 Kotchman also argued that as a long term partner with the Marine Corps, General dynamics has a track record of developing, producing and supporting combat solutions for its customers.
"The company seeks to enter into the next successful chapter of this relationship and provide advanced reconnaissance solutions," GD said.
According to Textron's Philips, the Marine Corps is expected to select up to three bidders to design and build a prototype vehicle to undergo testing, thereafter an engineering and manufacturing development phase would involve up to two competitors and make occur around fiscal year 2024.
Previously, in 2018 Aerovironment [AVAV] said it was partnering with General Dynamics to integrate two of its systems into the ARV concept. The partnership included having both companies put their own research and development funding into putting Aerovironment's Switchblade loitering munition and the Shrike 2 hybrid vertical and takeoff reconnaissance drone into the ARV (Defense Daily, Oct. 10, 2019).
Separately, Science Applications International Corp. [SAIC] confirmed to Defense Daily it is not pursuing the next phase of the ARV program as a prime contractor, but it declined to further elaborate on why it made that decision.
In 2019, SAIC received an earlier contract from the Office of Naval Research to develop technology for the ARV.
BAE Systems did not confirm if it is participating in the competition.
"BAE Systems is dedicated to providing innovative combat system solutions to meet the needs of the U.S. Marine Corps' modernization efforts. We look forward to continuing our commitment to the Marines with the capabilities needed to continue as the world's premier expeditionary force," the company said in a statement to Defense Daily.