Germany's Rheinmetall on Thursday unveiled its newest tactical truck, the HX3, which has capacity for autonomous driving and is able to carry advanced artillery systems.
Alexander Westermann, the company's vice president of sales, said during a virtual presentation Rheinmetall has built three HX3 trucks to date and is expected to ramp up capability for full production by 2024.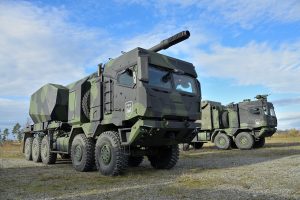 "Completely redesigned, this future-proof military truck addresses contemporary military and automotive megatrends by drawing on innovative new technologies," Rheinmetall wrote in a statement. "Among other things, users can expect better protection, improved mobility, enhanced driving comfort as well as a digital interface architecture for greater operational flexibility and future performance upgrades. At the same time, the valued core strengths of the HX2 and the family concept are retained."
The new truck is the latest in Rheinmetall's family of HX platforms, and is available in 4×4, 6×6, 8×8 and 10×10 configurations.
"The HX3 is also better able than ever to serve as a systems carrier for complex weapon and radar systems. These include truck auto-based artillery systems, for example, which are likely to gain importance in coming years," the company wrote. "In combination with the newly developed Artillery Truck Interface, the HX 10×10 could be utilized in future as the standard basis for various artillery solutions or similar systems."
During the presentation, Rheinmetall said the HX3 will have options to integrate two separate software kits that in combination would allow for autonomous driving operations.
The truck also features a redesigned cab that can be armored as well integrated with active and passive protection systems, to include Rheinmetall's ROSY Rapid Obscuring System and the short-range ADS Active Defence System.
Rheinmetall noted its current customers for HX trucks include Germany, the United Kingdom, Australia, New Zealand, Austria, Norway and Sweden.