Rheinmetall said this week it will move forward in Australia's $10.2 billion future infantry fighting vehicle competition with its Lynx fighting vehicle, the same platform the German firm is offering for the U.S. Army's Bradley replacement program.
Australia has tapped Rheinmetall and South Korea's
Hanwha to continue working on the phase Land 400 Phase 3 program to replace its M113 armored carriers with a modernized tracked vehicle, with the next phase focused on Risk Mitigation Activity (RMA) trials.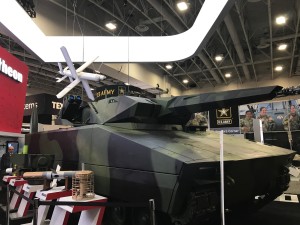 "We welcome the Commonwealth's decision to select Lynx KF41 for the RMA trials and look forward to demonstrating the capability of our next generation infantry fighting vehicle," Gary Stewart, managing director of Rheinmetall Defence Australia, said in a statement. "We believe Lynx is the best vehicle in its class for Australian needs and it sets new standards in protection, mobility, lethality and knowledge needed to survive and defeat any adversary."
Land 400 Phase 3 is expected to include the purchase of 450 new IFVs, with Australia set to make a final acquisition decision between Rheinmetall's Lynx and Hanwha's AS21 Redback in 2022.
"Rheinmetall has developed this vehicle so it is positioned at an ideal level of maturity when Australia needs it to enter service in 2026, and it has the inherent growth capacity and a growth path to extend these capabilities through its 40-plus year life," Stewart said.
The latest announcement narrows the Land 400 competition down to the two competitors, effectively eliminating BAE Systems' CV90 IFV and General Dynamics [GD], which had been offering a platform based on its Ajax armored vehicle.
Rheinmetall has previously said its bid included plans to deliver two Lynx base vehicle configurations– an Infantry Fighting Vehicle and Maneuver Support Vehicle — that will be modular to meet the Australian Army's goal to go after nine vehicle roles, including a mortar variant and logistics variant (Defense Daily, March 8).
Australia previously signed a deal with Rheinmetall for LAND 400 Phase 2 to deliver over 200 of its Boxer 8×8 Combat Reconnaissance Vehicles.
"Rheinmetall has taken all of the significant benefits of Boxer and ensured they are part of the Lynx KF41 package, with significant commonality between the vehicle fleets," Stewart said. "Extending our partnership with Army and the Commonwealth to deliver the Lynx for Land 400 Phase 3 would deliver a fully integrated armoured vehicle fighting force for the Australian Defence Force."
The German defense firm has also partnered with Raytheon [RTN] to offer Lynx for the U.S. Army's program to replace its Bradleys with the Optionally Manned Fighting Vehicle.
Rheinmetall and Raytheon said last month the two companies have added Detroit-based automotive engineering firm Pratt & Miller to its OMFV team to begin assembling a U.S. supply chain for Lynx (Defense Daily, Aug. 13).
Proposals and bid samples for the OMFV prototype phase are due to the Army on Oct. 1.