NATIONAL HARBOR, Md. – The F-35 Joint Strike Fighter's manufacturer wants to negotiate maintenance contracts on a five-year schedule, a new process it claims will save $1 billion in sustainment costs for the U.S. military over that contract period.
Lockheed Martin
[LMT] is pitching a shift away from the typical yearly contract negotiation cycle that the company says assumes significant government risk and drives minimal long-term industry investment. Officials submitted a white paper to Pentagon acquisition leaders in August to begin considering a performance-based logistics contract proposal, said Ken Marchent, Lockheed Martin vice president for F-35 sustainment in a Sept. 17 media roundtable at the Air Force Association's Air, Space and Cyber conference here.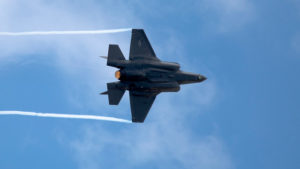 Such a structure would allow Lockheed Martin to negotiate better deals with its suppliers "knowing they have five years-worth of business guaranteed," he said. "What this does for now is it allows us to put some stability into the sustainment game." Defense One first reported the new contract proposal Monday.
Not only will the new contracting mechanism save $1 billion within the five-year period as opposed to the current process, but Lockheed Martin pledges to immediately invest $1.5 billion into sustainment issues including spare parts, building supply capacity and enhancing the Autonomic Logistics Information System (ALIS) – the logistics and repair information system whose initially delayed upgrades and other issues proved cumbersome for maintainers on the flight line. Lockheed Martin has since made upgrades to ALIS that have significantly improved turnaround times and plan to shift the system to a cloud-based network in 2020, Defense Daily first reported Monday.
With the proposal comes a commitment to help the F-35 fleet reach an 80 percent mission capability rate, Merchant said. Right now, the global fleet is hovering around 65 percent, with aircraft in theater being prioritized for repairs and maintenance, he said.
The company also pledges to reduce the cost per flying hour for the F-35A from its current $44,000 to $25,000, with plans to absorb the risk itself, Merchant said.
The Pentagon and Lockheed have reached a handshake deal for the F-35's Lot 12, with options to include Lots 13 and 14 and a commitment to deliver an $80 million F-35A in 2019 (Defense Daily, June 10). The Pentagon's Undersecretary of Defense for Acquisition and Sustainment Ellen Lord told reporters in May that the fiscal year 2019 sustainment contract included a 10-percent reduction in the negotiated cost per flying hour compared to the previous year (Defense Daily, May 13).
Lockheed Martin has delivered over 425 F-35s that are being flown at 18 bases around the world. Seven services so far have declared initial operating capability for their fleets: The U.S. Air Force, Navy and Marine Corps, as well as Italy, the United Kingdom, Israel and Japan, Steve Callaghan, Lockheed Martin vice president for F-35 business development, said Tuesday.
Air Force Materiel Command Commander Gen. Arnold Bunch told reporters Tuesday that he has reviewed Lockheed Martin's white paper proposal, but the F-35 Joint Program Office will evaluate it before any decisions are made.
"They are analyzing it and looking at it and working with [the Office of the Undersecretary of Defense for Acquisition and Sustainment]. … I'll wait till they do their more refined look at it," he said.
There will likely be additional negotiations before any decision or ultimate contract is finalized, he noted. That being said, "We've been very clear that we need to drive down the sustainment costs," Bunch noted. "I think we are all looking for ways that we can do that for the longer term. … There are ideas there that might bear fruit, but we've got to have more dialogue."
Before assuming command of AFMC in May, Bunch previously served as the Air Force's military deputy for acquisition. He noted that a "multi-pronged approach" will be necessary to tackle the full issue of F-35 sustainment, to include moving repair parts more quickly and making ALIS more responsive for maintainers and operations, as well as driving down the overall cost of maintaining those aircraft.