BAE Systems won two Navy contracts on Sept. 7 worth $171 million total to perform simultaneous maintenance and repair on two Arleigh Burke-class (DDG-51) destroyers at its San Diego shipyard, the Defense Department said on Wednesday.
The extended dry-docking selected restricted availability (EDSRA) contracts will have BAE's shipyard dry-docking the USS Stethem (DDG-63) and Decatur (DDG-73) at the same time in October. These Chief of Naval Operations scheduled EDSRAs will cover a combination of maintenance, modernization, and repair of the ships.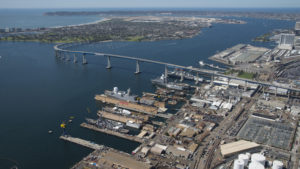 The Navy said these are "long-term" availabilities solicited on a West Coast-wide basis. BAE is directed to "provide the facilities and human resources capable of completing, coordinating, and integrating multiple areas of ship maintenance, repair and modernization," for the destroyers.
BAE specified it will perform hull, mechanical and engineering repairs aboard the ship.
The Stethem award is worth $84.6 million and includes options that, if exercised, would raise the total value to $96 million. The Decatur award is worth $86 million and has options that would boost its total value to $89 million.
The destroyers each displace about 9,000 tons and BAE expects to re-float both in April 2020. The work is expected to be completed by October 2020
The company said this will be the first time its newest dry-dock in San Diego will work on two destroyers at once.
"The ability to simultaneously dock two DDGs is a special capability that BAE Systems brings to our Navy customer and comes at a critical time when additional throughput is necessary to meet surface combatant demands and modernization requirements," David Thomas, vice president and general manager of BAE Systems San Diego Ship Repair, said in a statement.
BAE said DDG-63 and DDG-73 will be positioned end to end, lifted together inside the dry-dock named "Pride of California," which was installed in 2017. The dry-dock is 950 feet long, 160 feet wide, with a lifting capacity of 55,000 tons.
The Defense Department said the requirement was competitively solicited using full and open competition, although only one offer was received.
The Stethem contract was awarded in full award time and $73 million of the $84.6 million will expire at the end of the current fiscal year. Likewise, the Decatur contract was awarded in full and $73 million will expire at the end of this fiscal year.
These awards were disclosed after top Navy officials told reporters last week the service is adjusting contract strategies to group multiple surface ship maintenance into one contract for private shipyards. That contracting strategy feeds into how the Navy is developing a private shipyard investment plan expected to mirror the Shipyard Infrastructure Optimization Plan (SIOP) for public yards (Defense Daily, Sept. 17).
That new strategy aims to improve workload stability for private yards while the service also operates the Perform to Plan initiative to identify performance gaps and barriers to execution that can be addressed.
"Across the board, we need to improve how we execute ship maintenance whether it's done in a public or private shipyard. We need to work with our industrial partners to provide workload stability and, for the Naval Shipyards, we need to provide our 21st century workforce with 21st century facilities and equipment," Vice Adm. Tom Moore, commander of Naval Sea Systems Command said in a statement Sept. 12.