The House on Thursday easily passed a bill that would keep the government running under a continuing resolution to Nov. 21 as lawmakers continue to hash out differences in authorization and appropriation bills.
House Appropriations Committee Chair Nita Lowey (D-N.Y.) introduced the bill, which passed by a vote of 301-123, on Sept. 18. The Continuing Appropriations Act, 2020, and Health Extenders Act of 2019 (H.R. 4378) would maintain fiscal year 2019 funding levels for all appropriations bills, including the defense, homeland security and energy and water bills, through Nov. 21, the final day both chambers are scheduled to be in session before leaving for the Thanksgiving holiday week.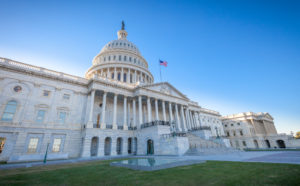 The Senate on Wednesday failed to pass a vote to invoke cloture on H.R. 2740, a minibus appropriations bill that included defense spending for FY '20. The vote was 51-44, with 60 votes needed to move forward. The vote fell largely along party lines, with Democratic Senate Appropriations Committee members Sens. Gary Peters (Mich.) and Doug Jones (Ala.) joining most Republicans to support the bill. Peters and Jones are both up for reelection in 2020.
Senate Foreign Relations Committee member Sen. Rand Paul (R-Ky.) crossed the aisle to oppose the bill, while Senate Majority Leader Mitch McConnell (R-Ky.) also voted no to reserve the option to call for a later vote.
Lowey said in a Wednesday statement that the proposed CR will allow Senate appropriators to pass their versions of the FY '20 spending bills and then negotiate with their House components. The House passed their versions of the bills earlier this year.
"While the House did its work, the Senate appropriations process is far behind. Because of this delay, we must pass a continuing resolution to avoid another government shutdown," Lowey said. "After we pass this CR and the Senate moves forward with their process, I look forward negotiating responsible bills that uphold our values and give working families a better chance at a better life."
House Majority Leader Steny Hoyer (D-Md.) had previously advocated for a short-term CR bill that would fund all bills at FY '19 levels through mid-November. Senate Republican leaders including McConnell and Senate Appropriations Committee Chair Richard Shelby (R-Ala.) have proposed working through as many bills as possible before the Sept. 30 deadline, and then supporting a CR for the outstanding bills.

Senate Appropriations Committee Ranking Member Patrick Leahy (D-Vt.) – who voted against sending the defense spending bill out of committee last week – supported the proposed bill in a Wednesday statement. "This is a welcome development, and I will urge the Senate to take up this bill and pass it next week and allow the Committee more time to negotiate bipartisan bills to implement the bipartisan budget agreement reached in July," he said.