Spain has awarded General Dynamics' [GD] joint venture with Spanish defense manufacturer Santa Bárbara Sistemas (GDELS-SBS) an $870 million deal to deliver nearly 350 8×8 Wheeled Combat Vehicles, the company announced Tuesday.
GD European Land Systems (GDELS) said the combat vehicle deal may eventually be worth over $2 billion and cover around 1,000 vehicles.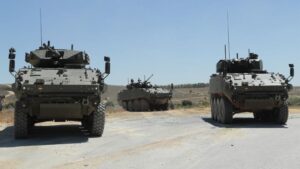 "We sincerely thank the Spanish Ministry of Defense (MoD) for its confidence in our vehicle platform, our engineering, and industrial capabilities. As a reliable partner, GDELS-Santa Bárbara Sistemas is truly proud to help the Spanish Army protect Spanish soldiers and improve its strategic mobility with state-of-the-art 8×8 wheeled combat vehicles," Juan Escriña, managing director of the GDELS-SBS joint venture, said in a statement. 
The new vehicle is based on the GDELS' 8X8 Piranha V Infantry Fighting Vehicle and is integrated entirely with technologies built in Spain, per a Spanish MoD requirement.
Delivery of the initial 348 vehicles is expected to occur over a seven-year period, according to GD.
During a recent earnings call, GD leadership said production at its Spanish facilities had slowed during the pandemic but was beginning to ramp up again to pre-COVID-19 levels.
"The largest impact to our operation in the quarter was the temporary but mandatory shutdown of two of our large European manufacturing sites in Seville and Trubia by the Spanish government. We have since reopened and are ramping up production to pre-COVID levels. We are on the mend at ELS," GD CEO Phebe Novakovic said during the call.
Additional members of the joint venture working on the vehicle program include Indra Sistemas, Sapa Placencia, and Escribano Mechanical & Engineering.