The Army has awarded 10 deals totaling $29.8 million to a group of companies to develop Air Launched Effects (ALE) for its future helicopter fleet, the service announced Tuesday.
The vendors are split between working on air vehicles, mission systems and payloads, with the end goal of delivering new drones that can be launched from its Future Attack Reconnaissance Aircraft (FARA), or other platforms, and capable of penetrating adversaries' Anti-Access/Area Denial environments (A2/AD).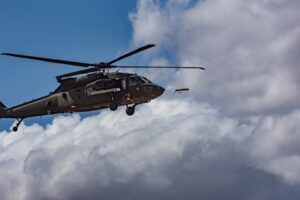 "Air Launched Effects are a critical component of Army aviation's advanced teaming capability to penetrate, disintegrate, and exploit threat A2/AD, mid-tier Integrated Air Defense Systems and long to medium-range fires in the close and deep maneuver areas," the Army wrote in a statement. "These autonomous air vehicle agreement awards will continue to support the future Multi-Domain Operations battlefield as part of the Future Attack Reconnaissance Aircraft ecosystem."
For the air vehicles, the Army selected Raytheon Technologies [RTX], Northrop Grumman's [NOC] Alliant Techsystems Operations and Area-I Inc.
L3 Technologies Inc [LHX], Rockwell Collins and Aurora Flight Services Corporation were tapped to work on the ALE mission systems. Rockwell Collins is part of Raytheon Technologies and Aurora is owned by Boeing [BA].

The Army selected Raytheon, Leonardo Electronics U.S. Inc, Technology Service Corporation and Alliant Techsystems Operations to develop the ALE payloads.
The group of deals were awarded as Other Transaction Authority (OTA) agreements through the Aviation and Missile Technology Consortium.
"We have lots of flexibility inside the OTA that allows us to do many things once these technologies are proven and ready to be integrated. We've put a lot of tools in place to allow the [Future Vertical Lift] CFT and PEO [Aviation] to take advantage of the flexibility, reduction in risk and time through this contracting strategy. We're excited to have that in place and to support our mission partners on an accelerated schedule," Joseph Giunta, Army Contracting Command-Redstone's executive director, said in a statement.
The Army described ALE as offering the ability to autonomously or semi-autonomously deliver a range of "scalable effects to detect, locate, disrupt, decoy, and/or deliver lethal effects against threats."
FARA is the Army's future scout helicopter, with the Army previously selecting Lockheed Martin's [LMT] Sikorsky unit and Textron's [TXT] Bell segment to build competitive prototypes (Defense Daily, March 25).