The Army on Wednesday evening announced it has selected Sikorsky's [LMT] Raider X and Bell's [TXT] 360 Invictus to move forward in its Future Attack Reconnaissance Aircraft (FARA) program.
Sikorsky and Bell beat out a team of AVX [AVX] and L3Harris [LHX], Boeing [BA] and a team of Karem Aircraft, Northrop Grumman [NOC] and Raytheon [RTN], and will now go on to build competitive prototypes for the Army's next scout helicopter.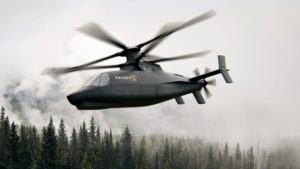 "The Future Attack Reconnaissance Aircraft is the Army's number one aviation modernization priority and is integral to effectively penetrate and dis-integrate adversaries' Integrated Air Defense Systems," Bruce Jette, the service's top acquisition official, said in a statement. "It will enable combatant commanders with greater tactical, operational and strategic capabilities through significantly increased speed, range, endurance, survivability and lethality."
Sikorsky's offering is based on its X2 technology and the co-axial S-97 Raider aircraft the company has been flying for several years, using it as a technology demonstration platform to inform Raider X's rigid rotor system and steps taken to reduce the number of parts needed for the rotor blades.
"We are honored the Army selected our game changing X2 Technology for Phase 2 of the Future Attack Reconnaissance Aircraft Competitive Prototype program," Andy Adams, Sikorsky's vice president for Future Vertical Lift, told Defense Daily in a statement. "Through our mature S-97 RAIDER technology demonstrator, we continue to optimize our FARA solution, which will provide the Army with an integrated weapon system that combines speed, range, maneuverability, survivability and operational flexibility. This approach is driving down risk and will result in an aircraft solution that is capable of executing the Army's joint all-domain operations."
Following a test flight with S-97 in February, Sikorsky officials told reporters the company has already started building components of the Raider X (Defense Daily, Feb. 20).
Bell has called Invictus the "most affordable, most sustainable and lowest risk" solution for FARA, noting the platform is single main-rotor helicopter with a low-drag tandem cockpit fuselage and fly-by-wire technology designed to meet the Army's speed requirement of exceeding 180 knots.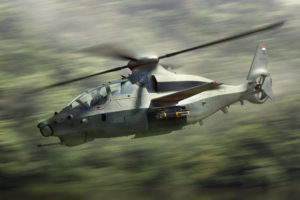 "The selection of the Bell 360 Invictus to continue in the FARA program builds on our decades-long legacy as an innovator in reconnaissance rotorcraft supporting the maneuver force," Bell CEO Mitch Snyder said in a statement. "Our team has applied innovative thinking with tested technology to give the Army a low-risk option to fulfill its requirements on an aggressive schedule."
The company released the Invictus design in October, where officials told reporters the platform builds off its experience developing the new 525 commercial helicopter while working under a similarly compressed timeline on the V-280 Valor tiltrotor aircraft, which was recently selected to continue forward in the Army's Future Long Range Assault Aircraft competition (Defense Daily, Oct. 2).
The FARA program is aiming for a first flight with the two prototypes in the fourth quarter of FY '22, with flight tests to run through the fall of 2023.
Army officials have previously said they aim to field the first FARA aircraft in 2028.
The Army describes FARA as a "knife fighter" helicopter that will fill the gap left by retiring the OH-58D Kiowa Warrior.