The Army announced Monday it has selected L3Harris Technologies [LHX] and Raytheon Technologies [RTX] for a prototype program to develop a Multi-Domain Sensing System (MDSS) for the service's High Accuracy Detection and Exploitation System (HADES) intelligence-gathering aircraft program.
The two companies received Other Transaction Authority (OTA) agreements to demonstrate their sensor offerings in the eight-month first phase of MDSS, valued at nearly $4.7 million, before the Army selects one or both vendors to move onto prototype fabrication.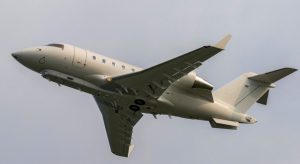 "The initial award is for Phase 1 of a Multi-Domain Sensing System program to demonstrate, develop, build, and integrate prototype electronic intelligence (ELINT) and communications intelligence (COMINT) sensors onto [HADES], the Army's next generation airborne intelligence, surveillance, and reconnaissance system," the Army wrote in a statement. "This competitive first phase of a multi-phased OTA prototype project will demonstrate the vendors' sensors under controlled conditions, leading to Phase 2 in which one or more vendors will further develop and build their sensors specifically for the HADES platform."
A third phase will then focus on providing a "a holistic COMINT/ELINT system" that will be flight tested to inform potential production requirements, with the entire MDSS prototype effort valued at $49 million.
The Army began its search for the future HADES platform last year, detailing its interest in a "business jet-class" aircraft capable of reaching 41,000 feet.
"The Army is pursuing HADES to address the demands of future Multi-Domain Operations against peer- and near-peer adversaries," Dennis Teefy, the Army's project director for sensors–aerial intelligence, said in a statement. "The goal is to provide deep-sensing intelligence collection of indicators and warnings, electronic order of battle, and patterns of life for target development. This will allow stand-off operations to detect, locate, identify, and track critical targets for the ground commander."