Northrop Grumman [NOC] said Thursday the Army has conducted two recent successful flight tests with its Integrated Air and Missile Defense Battle Command System (IBCS), one that involved intercepting a high-speed tactical ballistic missile and another where two cruise missile targets were taken out "in a stressing electronic attack environment."
The two flight tests were conducted this past week at White Sands Missile Range in New Mexico as part of the initial operational test and evaluation (IOT&E) for IBCS, with a Northrop Grumman spokesperson noting a third and final flight test during IOT&E is slated for this fall.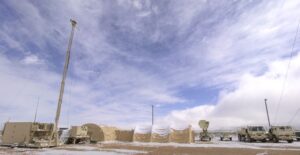 "We continue to demonstrate our architecture's power to leverage information from every domain, delivering unprecedented situational awareness and increased time and options to warfighters," Christine Harbison, Northrop Grumman's vice president and general manager for combat systems and mission readiness, said in a statement. "IBCS's maturity and ability to connect legacy systems significantly helps to expand their mission capability."
IBCS is the Army's future missile defense command platform, designed to integrate and connect the service's full range of "sensor to shooter" capabilities.
The Army in December awarded Northrop Grumman a potential $1.4 billion deal for IBCS production, covering delivery of up to 160 systems (Defense Daily, Dec. 23).
Northrop Grumman noted the first of the two IOT&E flight tests to intercept the tactical ballistic missile (TBM) target used IBCS aided by the company's Joint Tactical Ground Station (JTAGS), "which delivered space-based sensor data to the system for early warning of an inbound TBM launch."
"IBCS established a track from the JTAGS data before ground-based sensors were able to detect the target, thus providing increased situational awareness for the operators," the company wrote in the statement.
A Northrop Grumman spokesperson told Defense Daily the TBM target was launched from Fort Wingate in New Mexico, and that Patriot radars tracked the inbound threat before IBCS automatically engaged by launching missiles.
For the second test, the company spokesperson noted one of the two cruise missile targets was equipped with airborne jamming capabilities designed to simulate an electronic attack on sensors and the effector connected to the Integrated Fire Control Network.
"IBCS was able to fuse the limited data from the ground assets that were degraded by electronic attack to continuously track both targets. The soldiers were presented with engagement solutions computed by IBCS which were then executed. The soldiers launched two missiles controlled by IBCS that successfully intercepted both threats," Northrop Grumman wrote in a statement. "The significance of this test is despite the stressing electronic attack environment and limited sensor types on the IFCN IBCS was able to track and engage both targets."
A full rate-production decision for IBCS is slated for fiscal year 2023, according to the Army.