The Army has fielded the first five UH-60V Black Hawks, which a retrofit of the UH-60L upgraded with Northrop Grumman's [NOC] 'digital cockpit' suite and its first aircraft to implement an open system architecture.
The Pennsylvania Army National Guard's Eastern ARNG Aviation Training Site received the initial UH-60Vs, with delivery of a sixth UH-60V set to arrive on July 31.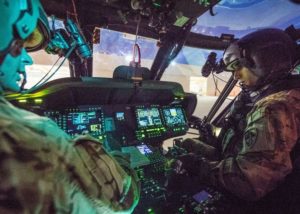 "Congratulations to the Pennsylvania National Guard on being the first unit equipped for the UH-60V. Our OpenLift modular, open systems architecture is on board, enabling rapid and timely capability enhancements," Northrop Grumman wrote in a social media post.
The Army noted that the 1-106th Aviation Regiment will be the first tactical unit to receive UH-60Vs, with fielding set to be completed by the end of fiscal year 2022.
The UH-60V program is expected to include converting 760 total UH-60L model aircraft to new, modernized configuration, according to the Army.
"By re-capitalizing the current legacy fleet, the Army will be able to deliver the modernized UH-60V for significantly less than the cost of a new aircraft," the Army's Program Executive Office for Aviation wrote in its Wednesday announcement. "The updated cockpit increases a pilot's situational awareness while reducing the workload, resulting in a more capable and safer aviation platform. Additionally, providing a nearly identical pilot-vehicle interface to the UH-60M enables common training and operational environment which reduces training costs."
The Army conducted the first flight of a  fully-upgraded UH-60V model helicopter last September (Defense Daily, Sept. 14 2020).