The House Armed Services Seapower Subcommittee approved and reported its mark of the fiscal year 2022 defense authorization act to the full committee on Wednesday after adding a series of amendments relating to Navy ship procurement.
The subcommittee approved both a series of five en bloc amendments and the mark itself via voice vote to move to the full committee.
The first en bloc amendment, sponsored by ranking member Rep. Rob Wittman (R-Va.), would extend authorities allowing the Navy to enter into a multi-ship procurement contract to buy four amphibious ships into FY '22.
The FY '21 defense authorization act allowed the Navy to procure three San Antonio-class LPD-17 amphibious transport dock ships and one America-class amphibious assault ship, LHA-9) at once to save money (Defense Daily, June 11, 2020).
However, Acting Assistant Secretary of the Navy for Research, Development, and Acquisition Jay Stefany told a Senate panel in June that while the Navy reached a "handshake agreement" with shipbuilder Huntington Ingalls Industries [HII] on what the contract would look like, he said the service received indications from the Pentagon that leadership wanted to defer the decision until the next budget cycle and a decision on the overall force structure (Defense Daily, June 9).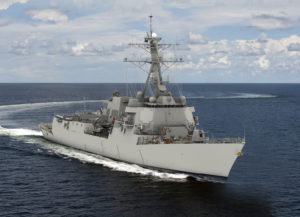 During the subcommittee markup, Wittman said, "this is all about the amphibious ship bundle to make sure that [the Office of the Secretary of Defense or OSD] continues the effort to purchase these ships. We know there's been a delay by OSD [Office of Cost Assessment and Program Evaluation], but I believe it's incredibly important for this nation to make sure that we exercise the savings…in buying 4 ships under this authorization to purchase amphibious ships in this bundle."
Earlier this month, the House Appropriations Committee approved its fiscal year 2022 defense spending bill, which included bill report language calling on the Navy to "expeditiously enter" into a new contract to this effect (Defense Daily, July 13).
In response to DoD pushing back the multi-ship buy, last month Wittman and Rep. Steven Palazzo (R-Miss.) introduced legislation that would hold half of OSD CAPE's office budget funding until the Navy procured LPDs-31, 32, and 33 and LHA-9 as planned (Defense Daily, June 15).
At the time Wittman argued this multi-ship agreement would save upward of $720 million over buying the ships separately.
Another amendment in the en bloc set, sponsored by Rep. Jared Golden (D-Maine), provides authority for multiyear procurement contracts on up to 15 total Arleigh Burke-class Flight III destroyers starting in FY 2023.
Golden is one of two representatives from Maine, where General Dynamics Bath Iron Works [GD] is one of the two destroyer shipbuilders along with Huntington Ingalls Industries' shipyard in Pascagoula, Miss.
During the markup, Golden said this provision authorizes a new multiyear contract for up to 15 ships between fiscal years 2023 and 2027.
"This is going to help to deliver Flight IIIs to the fleet over the next five years, ensuring that we have a large surface combatant fleet necessary to remain competitive in the near term, but in the long term it's going to provide very necessary predictability and stability to the two shipyards that build large surface combatants for the nation. It's going to act as a bridge to the DDG(X) as well," Golden said.
An amendment in the package, sponsored by HASC Seapower subcommittee Chairman Joe Courtney (D-Conn.), directs the Navy secretary to brief the committee by February 2022 on what efforts the Navy is taking to reduce the backlog of spares and cannibalization of parts on Virginia-class attack submarines.
Other approved amendments include one that adds a Spearhead-class Expeditionary Fast Transport (EPF) vessel hull to a required briefing from DoD on the future Navy hospital ship, T-AH(X) and one that updates a certification required by an act of Congress.
During the hearing, Rep. Elaine Luria (D-Va.) said while she approves of these amendments, she continues to have reservations about decommissioning ships while trying to build a larger future fleet and intends to work with other members to offer an amendment in the full committee markup  postponing some cruiser retirements.
She said she continues "to believe that we cannot year over year decommission more ships than we build and I think we have a serious challenge moving forward and look forward to working with my other colleagues in full committee to offer an amendment to postpone the decommissioning of several of the cruisers."
Luria also urged her colleagues to match the Senate Armed Services Committee's version of the defense authorization bill in increasing the DoD topline budget.
Last week, the Senate committee voted to increase the Pentagon's topline budget by $25 billion over the administration's $715 billion FY '22 budget request (Defense Daily, July 22).