The Navy has reached an agreement with shipbuilder Huntington Ingalls Industries [HII] on procuring four amphibious ships at once, but the Pentagon is delaying a decision until a new force structure assessment is completed, an official told a Congressional panel June 8.
During a Senate Armed Services' Seapower Subcommittee hearing Tuesday, Acting Assistant Secretary of the Navy for Research, Development, and Acquisition Jay Stefany said the service completed negotiations about a week ago with HII to document a contract structure allowing the Navy to procure four amphibious ships in accordance with authorities Congress approved in the fiscal year 2021 defense authorization bill.
"And so we have a handshake agreement on what that would look like if we were to actually enact it into a contract. And we packaged that up and we're sending that to department leadership for decision and to get that in place before the authority that expires at the end of this year that you provided us," Stafany said.
The FY '21 defense authorization act included a provision allowing the Navy to pursue procuring three San Antonio-class LPD-17 amphibious transport dock ships and one America-class amphibious assault ship at once (Defense Daily, June 11, 2020)
However, Stefany said the service is getting initial indications from the Pentagon that the department wants to defer this decision as it works on the overall FY '23 budget request cycle, reviewing that over the summer and fall as well as deciding on the overall force structure.
He also said the Defense Department wants to work with Vice Adm. James Kilby, deputy Chief Of Naval Operations For Warfighting Requirements And Capabilities, and Lt. Gen. Eric Smith, deputy Commandant For Combat Development And Integration, to determine the right mix of ships in the future.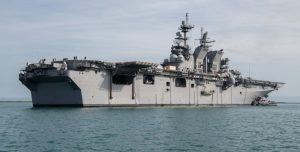 "The commitment of four ships at once – they would like to defer that commitment until they are able to make that force structure assessment. So right now indicators are that we're not going to be able to execute that. But it's not a done deal, it's going through the process within the department for a final decision."
Separately, Stefany also said the Navy is planning to deliver the annual 30-year shipbuilding plan soon.
The Biden administration did not include a five-year budget planning outlook as is standard and did not reveal its 30-year shipbuilding plan, which is also usually delivered with the budget request and would also show the administration's long term naval priorities.
"It was absolutely our goal to have it to you within a few days of the budget. It is in the finally, final, final chop cycle within the department. Any day now…I apologize for all of us that we were not able to provide it before this hearing," Stefany said.
The Trump administration also did not deliver its 30-year shipbuilding plan on time with its budget request last year, delaying it until December 2020, after former Secretary of Defense Mark Esper completed the Battle Force 2045 future fleet assessment plan.
That 30-year plan mapped out massive increases to the fleet in line with that Battle Force 2045 plan, including pushing for 82 more ships from fiscal years 2022 to 2026. Overall, it projected an increase to the service's battle force inventory from 305 ships in FY '22 to 405 ships by FY '51 (Defense Daily, Dec. 10, 2020).