The Senate Armed Services Committee (SASC) FY 2021 defense authorization bill largely follows the Navy's shipbuilding request, but adds long lead funding for other vessels and restricts acquisition for unmanned vessels.
While the bill essentially supports the seven new battle force ships the Navy requested, it adds $1.4 billion above the request for a total of $21.3 billion in shipbuilding funds.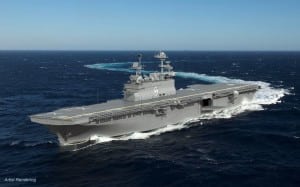 The Trump administration originally requested eight battle force ships in FY '21, but that included the Flight II San Antonio–­class amphibious transport dock, LPD-31. However, Congress previously authorized that ship in the FY '20 budget (Defense Daily, Feb. 26).
The committee added an authorization of $472 million more than requested in advanced procurement for Virginia-class attack submarines "to preserve the option to procure 10 Virginia-class ships from FY 2019 to 2023," the bill's executive summary said.
"The basic amount would have been around on the order of $250 million, but we put in $400 million so they can get ready to go, basically if not this year, at the first opportunity," SASC Ranking Member Jack Reed (D-RI) told reporters on Thursday during a phone briefing to review the committee's markup of the1 bill, which it approved on Wednesday.
The Navy requested funds to procure only one vessel instead of the usual two per year when the administration directed Navy funds to pay for National Nuclear Security Administration projects (Defense Daily, June 6).
Committee aides said they wanted to fully fund every dollar that can be spent in FY '21 on the Virginia-class to keep it on track.
In December, the Navy awarded General Dynamics [GD] Electric Boat a 10-vessel $22.2 billion Block V procurement contract that plans for nine vessels but has an option for a 10th (Defense Daily, Dec. 2, 2019).
The bill also authorized $250 million more than requested to accelerate construction of the America-class amphibious assault ship LHA-9.
In April, Virginia's congressional delegation wrote the Navy's top acquisition official, pushing the service to accelerate work on LHA-9 (Defense Daily, April 21).
Last year, Sen. Roger Wicker (R-Miss.) pushed for the Navy to get authority to start advanced procurement and incremental funding for the San Antonio-class Flight II Landing Platform Dock LPD-31 and LHA-9. LHA-9 was previously delayed to 2024 based on affordability, but Assistant Secretary of the Navy for Research, Development and Acquisition James Geurts said at the time the Navy would try to pull LHA-9 back forward (Defense Daily, March 29, 2019).
Then in February, a Defense Department reprogramming request planned to move $650 million away from the ship to help fund the Trump administration's border wall (Defense Daily, Feb. 13)
Other FY '21 shipbuilding authorizations include multi-ship contract authority for up to two Columbia-class submarines as the administration requested in a legislative proposal, multi-ship authority for three San Antonio-class LPD-17 amphibious ships, and one America-class amphibious assault ship; $500 million for LPD-32 and LPD-33 long-lead time material; $260 million for long lead time material for Arleigh Burke-class DDG-51 destroyers; and $350 million "to improve submarine and surface ship supplier stability."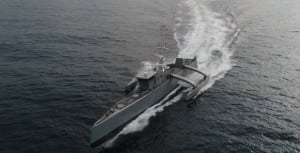 Separately, according to the summary the bill "requires the Navy to qualify the main engines and generators for certain unmanned surface vessels prior to vessel procurement."
This effort includes an authorization of $200 million above the Navy's request "to prototype new critical subsystems for naval vessels, including unmanned vessels."
Aides explained the committee is trying to require technological maturity with unmanned vessels and draws a distinction between subsystems and full-scale prototyping.
They underscored unmanned surface vessels are an example of a program that needs to pursue subsystem prototyping first, since there are too many unknown subsystems to be matured before the Navy should build a full-scale vehicle.
The bill has two provisions to these ends: the Undersecretary of Defense for Research and Engineering has to review unmanned surface and undersea vehicles before they receive full vessel research and development funding; and the vessels require a certification that the engines and generators are qualified by the Navy before they can go into procurement.
Committee aides said SASC is trying to catch issues earlier in programs and fully use land-based testing sites and sub-system prototyping before moving fully ahead with unmanned vessel production.