Senate Armed Services Committee (SASC) leadership offered support Thursday for the Pentagon's call to receive congressional help with paying billions of dollars in pandemic-related claims from industry.
Sen. Jack Reed (D-R.I.), the SASC ranking member, told reporters that funds to cover the defense industrial base's COVID-19-related costs would have to be included in the next pandemic relief bill or as emergency supplemental funding passed through the appropriation committees.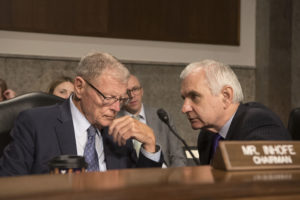 "This is one of those aspects we assume would be in the next major COVID bill, that there would be funding for the defense industrial base because of all the costs that she and the department have to bear," Reed said. "That's one of the reasons I think we should move very quickly to take up a new COVID bill as soon as we can."
Ellen Lord, the Pentagon's top acquisition official, told the House Armed Services Committee during a hearing Wednesday that covering industry's costs related to keeping on employees during the pandemic, purchasing protective equipment and cleaning facilities would total in the "double digits of billions of dollars" (Defense Daily, June 10). 
Lord added that without Congress' help to pay the reimbursements the Pentagon would likely face impacts to readiness and modernization.
Sen. Jim Inhofe (R-Okla.), the SASC chairman, said he had not discussed the issue with Lord yet while adding that he would support such a request.