The Army is starting the full critical design review (CDR) for its next-generation helicopter engine this month after a slight delay due to the pandemic, with officials calling the next two months a crucial period for ensuring initial engine testing can remain on schedule for 2021. 
Patrick Mason, the Army's program executive officer for Aviation, said the move to begin a full CDR for the Improved Turbine Engine Program (ITEP) follows the successful certification process for the engine's components.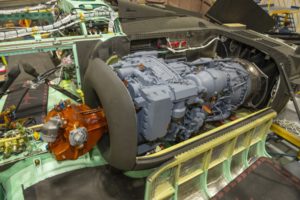 "That's going to be critical over the next month to two months to see where we stand on hardware deliveries with that and whether or not we will reach the first engine to test at the time that we had originally stated," Mason said during an online Heritage Foundation event.  
General Electric [GE] Aviation was awarded a $517 million contract in February 2019 to develop ITEP which will be the future engine for the Army's Black Hawk and Apache helicopters as well as the Future Attack Reconnaissance Aircraft (FARA) (Defense Daily, Feb. 1 2019). 
Gen. Mike Murray, head of Army Futures Command, noted during an online AUSA event on Wednesday that the start of CDR for ITEP had been delayed by a few weeks due to the pandemic but was now back on schedule.
"The ITEP engine is closely tied with the FARA program. So far, we don't have much flexibility left in that schedule but so far we're still on track," Murray said.
Mason confirmed while the pandemic caused a delay, the Army remains slightly ahead of its original schedule which had CDR planned for the fourth quarter of this year.
"When we originally looked at it there was an acceleration that we were trying to obtain where we'd be able to do [the CDR] in the second quarter of this year. Given COVID-19 and all of the factors that have gone on, we were unable to do that. So we're executing it in the third quarter," Mason said.
Brig. Gen. Walter Rugen, director of the Army's Future Vertical Lift Cross-Functional Team, joined Mason during the event and discussed the "two-engine strategy" for ITEP which will involve industry to help with assessments for Future Long Range Assault Aircraft engines as offerings for that program go through the design optimization phase. 
"Ultimately, we would really like to explore a two engine strategy for our organic industrial base. We really think the efficiencies there with a two engine strategy across all of Army aviation's tactical fleet would really be a powerful way to go at both readiness and affordability concerns," Rugen said.