The Pentagon is seeking Congress' help with paying billions of dollars in pandemic-related claims from industry that could cause impacts to readiness and modernization without newly appropriated funds.
Ellen Lord, the department's top acquisition official, told lawmakers during a House Armed Services Committee (HASC) hearing on Wednesday that at least one prime contractor has told her the company would have around $2.5 billion in claims related to costs as a result of the pandemic.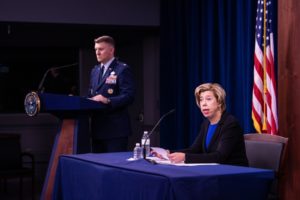 Section 3610 of CARES Act coronavirus relief package authorized the Pentagon to cover the defense industrial base's efforts to keep workers employed but did not appropriate funds for reimbursements, Lord noted.
"While the department may be able to use other appropriated funds to reimburse contractors, the cost for [Section] 3610 is likely well beyond the department's resourced ability to do so without significantly jeopardizing modernization or readiness," Lord said.
Lord estimated the costs associated with pandemic-related claims would total in the "double digits of billions of dollars."
"We have rough numbers on that. We have submitted them. They are at OMB right now," Lord said. OMB is the White House Office of Management and Budget.

The unnamed contractor that spoke to Lord said Section 3610 would amount to $1.5 billion in costs, as well as another $1 billion in claims from CARES Act provisions covering costs for purchasing protective equipment, cleaning and sterilizing facilities and implementing new Centers for Disease Control guidance measures to keep production lines open. 
"If that's going to happen there would have to be some sort of supplemental funding?" Rep. Mac Thornberry, the HASC ranking member, asked Lord. "Otherwise, these contractors are going to have to eat several billions of dollars which could well come at their employees' expense which this was supposed to help to begin with."
Lord affirmed the department would need to request funding in a subsequent funding bill, adding industry would likely wait to submit claims until funds for reimbursements were appropriated.
"There's a choice there, whether or not we want to eat into readiness and modernization and slow down readiness and modernization on an ongoing basis or whether we want to remedy this situation in the next six months or so and then be able to continue on to make sure that we have the ready forces that we need to have for our national security," Lord said. "They are aware that there is not an appropriation yet, and I believe that they're concerned they might get a one-time shot at this and want to make sure what the entire situation is."