The chairman of the House Armed Services Committee said Tuesday he opposes providing supplemental funding to the Pentagon for payments toward industry's pandemic-related claims, which the department estimates will be in the "low double digits of billions of dollars." 
Rep. Adam Smith (D-Wash.) told reporters the Pentagon should be able to cover the reimbursements with the emergency funding from the previous CARES ACT coronavirus relief package, which he said the department has yet to allocate half of the $10 billion that it received in the bill.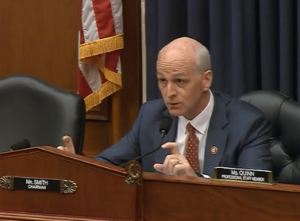 "I believe that they can meet those requirements within the budget that we have given them, and we don't need to give them any more money," Smith said. "It's going to be difficult. But gosh, everybody, every state, every locality, every federal agency, certainly every business, has had to adjust in light of COVID-19 and the impact that it has had. I have yet to see evidence the DoD cannot adjust within their existing budget."
Ellen Lord told HASC during a hearing earlier this month the Pentagon would require Congress' help with supplemental funding to pay the billions of dollars in potential claims, which would cover the defense industrial base's efforts to keep workers employed during the pandemic and implementing new safety measures to keep production lines open (Defense Daily, June 10). 
"I would suggest that if they're looking for 'low double digit billions' that maybe some of that unallocated money that's going to build the wall can be reallocated where it should be within DoD. Because, I don't exactly know what that number is, but it's in the 'high single digit billions' at least," Smith said.
Senate Armed Services Committee leadership has previously expressed support for the Pentagon's call to receive congressional help with the pandemic-related claims (Defense Daily, June 11).