The Navy awarded Huntington Ingalls Industries [HII] a $936 million modification June 29 to exercise a fiscal year 2020 option to build the third Arleigh Burke-class DDG-51 destroyer of the year, DDG-135.
The award announcement said the modification also includes options for engineering change proposals, design budgeting requirements and post-delivery availabilities on the fiscal 2020 option ship. If the options are exercised, the total value of the FY '20 option ship would rise to $948 million.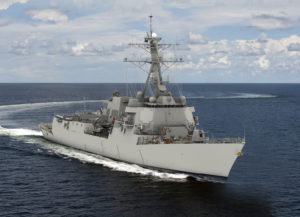 Work will largely occur at HII's Ingalls Shipbuilding facility in Pascagoula, Miss., and is expected to be finished by June 2027.
In 2018, the Navy awarded HII $5.1 billion for six Flight III DDG-51 destroyers and General Dynamics' [GD] Bath Iron Works (BIW) $3.9 billion for four ships covering a combined 10 Flight III destroyers in a multi-year award covering FY 2019-2022 (Defense Daily, Sept. 28, 2018).
The Flight III contracts cover one Flight III destroyer from each company per year from FY 2019-2022 to maintain a two ship per year build rate and includes options for up to five total additional destroyers for FY 2018-2022 if Navy and Congress decide to increase the build rate to three per year.
This latest contract to HII is for a third FY '20 ship after HII got two ships from FY '18 funding and each yard got one ship from FY '19-'22 while being allowed to compete for a third ship if Congress allocated funding for it.
In late 2018, the Navy awarded BIW the third FY '19 option ship, DDG-132, making its fifth overall under the Flight III multi-year award (Defense Daily, Jan. 2, 2019).
"This contract award provides great momentum for Ingalls and our more than 600 suppliers, in nearly 40 states, as we enter the second half of the year. We continue to focus on high performance and providing the greatest value possible to our customers," Ingalls Shipbuilding President Brian Cuccias said in a statement.