The top Republican on the House Armed Services Committee anticipates bipartisan support for the panel's version of the next defense authorization bill, while adding he wants to see provisions for the DoD's chief management officer and troop movement from Germany addressed at Wednesday's markup hearing.
"I am hopeful, I would say very hopeful, that at the end of the full committee markup this week that there will be widespread bipartisan support for the product," Rep. Mac Thornberry (R-Texas), the HASC ranking member, told reporters on Monday. "It's not the way I would have written it. I do have some issues. But on the other hand, we see I think both sides trying to work together and not being needlessly provocative. And if that attitude holds us up through the full committee markup and the House floor, then we can get to conference with bills that are very easily 'conference-able' and get the conference report done on time."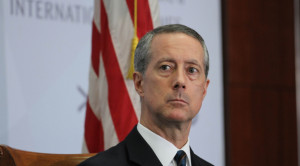 HASC's FY '21 defense authorization bill, released over the weekend, includes cuts to the F-35 program and adjustments to various shipbuilding programs to fund advanced procurement of a second Virginia-class submarine (Defense Daily, June 25).
"We saw last year far more extraneous issues on our bill than normal," Thornberry said. "Last year, we had a ton of stuff that was not in our jurisdiction, and we see some of that this year already. I'm afraid it may get worse because there are so few legislative vehicles moving with any prospect of being signed into law."
Thornberry said he expects an amendment to be introduced on Wednesday that would address eliminating the Pentagon's Chief Management Officer (CMO) position, which is currently included in the Senate Armed Services Committee's version of the bill.
"The CMO position, at least as currently constructed, was a product of Congress. And the main thing we were trying to achieve is to have somebody like a service secretary over the defense-wide agencies, the Fourth Estate if you will. We created it. We've been tinkering with the authorities and I just think there's very little disagreement with the Defense Business Board study. They basically came to the conclusion that nobody could do this job," Thornberry said. "I have come to the conclusion that Congress is largely responsible for making this an impossible job and we need to figure out something different."
The ranking member said he is also considering an amendment related to the White House's potential plan to move thousands of troops out of Germany, which said he would "benefit the Russians and disillusion our allies."
"It is totally unrealistic to assume that you would take thousands of people out of Europe by Sept. 30. Where do you put them? Where's the housing? Where's the facilities for their kids, schools, all of those things? Part of the reason I was so concerned about this is I think this idea or plan came from a couple of people in the White House without DoD input," Thornberry said.
A potential amendment could look to mandate consultation with both Congress and allied partners before moving ahead with the decision, according to Thornberry.