President Trump selected Assistant Secretary of the Navy for Manpower and Reserve Affairs (ASN M&RA) Gregory Slavonic to serve as Acting Under Secretary of the Navy on June 22, the service said Friday.
Slavonic has served as ASN M&RA since June 2018.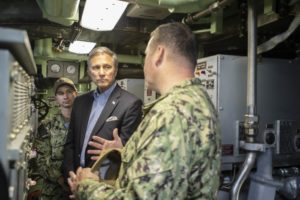 "I've had the opportunity to work with Greg Slavonic for a number of years and value his leadership abilities, foresight and friendship. I look forward to the innovation and inspiration he will continue to bring to the Department of the Navy (DoN) in his new position," Secretary of the Navy Kenneth Braithwaite said in a statement.
Before joining department leadership, Slavonic served as chief of staff for senator James Lankford (R-Okla.) and earlier held various civilian senior level positions in the communications industry. Earlier in his career, Slavonic joined the Navy as an enlisted Seaman Recruit and retired from the service as a rear admiral, ending his uniformed military career as the Navy's Sixth Special Assistant to Chief of Information (CHINFO) and Director of Public Affairs Program (Reserve).
The Navy said in his new role as Acting Under Secretary Slavonic serves as the deputy and principal assistant to Braithwaite and Chief Operating Officer and Chief Management Officer for the Department of the Navy.
Slavonic has been performing the duties as the Navy's second highest civilian official since late April, but now is acting on a longer-term basis. This comes after a great deal of churning in the Navy leadership over the past year.
He succeeds former Acting Secretary of the Navy Thomas Modly, who became Acting Secretary after former Secretary Richard Spencer resigned over the handling of Navy Seal Eddie Gallagher's case (Defense Daily, Nov, 25, 2019).
Then Modly himself resigned in April, after heavy criticism over his actions removing the commander of the USS Theodore Roosevelt (CVN-71) amid a COVID-19 outbreak. After Modly resigned, Secretary of Defense Mark Esper appointed then-newly appointed Army Undersecretary Jim McPherson as Acting Secretary of the Navy (Defense Daily, April 8).
In May, the Senate confirmed former ambassador to Norway Braithwaite to be the Navy Secretary. Braithwaite's name was first mentioned after Spencer resigned in November, when Trump tweeted his intention to nominate Braithwaite (Defense Daily, May 21)
However, Braithwaite's process was delayed because he was only officially nominated in February (Defense Daily, Feb. 28).