Acting Secretary of the Navy Thomas Modly resigned on April 7 after heavy criticism over his removal of the commander of an aircraft carrier dealing with a COVID-19 outbreak and is being temporarily replaced by the Under Secretary of the Army.
In a statement released Tuesday, Secretary of Defense Mark Esper said Modly resigned on his own accord so the USS Theodore Roosevelt (CVN-71) and Navy could move forward after his controversial handling of the situation.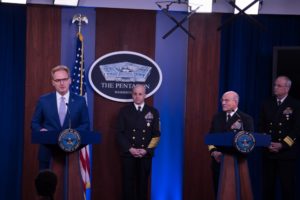 Esper appointed newly appointed Army Undersecretary Jim McPherson as Acting Secretary of the Navy.
McPherson previously served in the Navy, rising to rear admiral and serving as the service's highest-ranking uniformed lawyer before retiring in 2006. He then served as the general counsel for the Pentagon's Counterintelligence Field Activity until it was shut down in 2008. In December, while serving as the Army's general counsel and acting under secretary of the Army, the White House announced its intention to nominate him as the permanent under secretary (Defense Daily, Dec. 5, 2019).
"Jim is a retired Admiral with a distinguished 26-year naval career, serving ashore, afloat, and overseas during his time in uniform. I know Jim McPherson well. He is a smart, capable, and professional leader who will restore confidence and stability in the Navy during these challenging times. Jim will serve as acting Secretary of the Navy until a permanent Navy Secretary is confirmed," Esper said.
Esper said while speaking with McPherson and Chief of Naval Operations Adm. Michael Gilday  he emphasized his priorities of protecting their people and health of the crew of CVN-71, maintaining the warfighting readiness of the ship and getting it back to sea and on patrol as fast and as safely possible, and supporting the national response to the COVID-19 pandemic.
Navy spokesman Cmdr. Clay Doss told Defense Daily that McPherson's appointment officially began on Wednesday and that Assistant Secretary of the Navy for Research, Development, and Acquisition (ASN RDA) James Geurts is currently the "senior Navy civilian."
Doss did not say if this means Geurts has any additional responsibilities.
Geurts' spokesman Capt. Danny Hernandez told Defense Daily it is not uncommon for Geurts to become Acting Secretary while a current Secretary is traveling, with the ASNs falling under the Under Secretary of the Navy on organizational charts.
Geurts, like other ASNs, traditionally "act as acting [secretary] during times of absence" of the Navy Secretary, Hernandez added.
Mody's resignation came after a week of controversy with how he dealt with issues with the Roosevelt and a COVID-19 outbreak onboard the ship.
On March 31, an unclassified letter written by the carrier's former commanding officer, Capt. Brett Crozier, sent to Navy personnel was obtained and published first by the San Francisco Chronicle asking the service to remove all but 10 percent of ship personnel to help stem the spread of the virus. During an April 1 press conference Navy leaders said he would not be punished for the letter but on April 2 Modly said he relieved Crozier of command for demonstrating poor judgment in a crisis with the letter leaking (Defense Daily, April 3).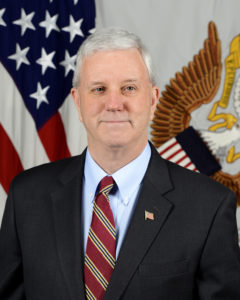 After increasing criticism for firing Crozier and a video surfaced of crew members cheering Crozier as he left the ship, on April 6 Modly arrived on the carrier docked in Guam and gave a 15- minute speech lambasting Crozier over the public address system. He said if Crozier did not leak the letter on purpose, he was too naïve or stupid to be a commanding officer if he did not think it would be released and it was "betrayal of trust" to Modly and the crew.
Within hours, the speech's transcript and an audio recording were themselves leaked to the press, swiftly leading to several lawmakers to call for his removal over how he handled the situation.
While Modly first issued a statement saying he stood by the speech early on April 6, by the evening he apologized for his comments, saying he did not think Crozier is naïve or stupid.
Democratic lawmakers began calling for Modly's removal over social media Monday evening, and defense authorizers on both sides of the aisle issued statements of support on Tuesday once the resignation was final.
Senate Armed Services Committee (SASC) Chairman Jim Inhofe (R-Okla.) said in a statement that he supports Esper in his personnel decisions, but that he also finds the "turmoil" within the Navy's leadership over the past year to be "disturbing."
"The Navy needs leaders now more than ever who can provide continuity and steady, insightful leadership," he said in a Tuesday statement. "I also look forward to learning more about the events that led us to where we are today – from who made the decision to dock the USS Theodore Roosevelt in Vietnam at the height of COVID-19 crisis there, to the support being given to unit commanding officers by Navy leadership, to what led the acting Secretary of the Navy to offer his resignation."
Congress is scheduled to return from recess April 20, and Inhofe said he plans for SASC to rapidly consider the nomination of Kenneth Braithwaite – currently the ambassador of Norway – to become the next permanent Navy secretary upon lawmakers' return to Capitol Hill. The nomination hearing is and will be the committee's top priority, a staffer told Defense Daily, noting that the committee cannot report nominees to the Senate floor when the upper chamber is not in session.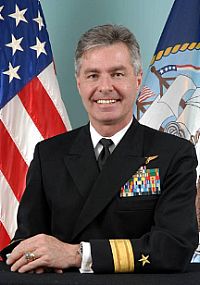 "Our Sailors, Marines and their families deserve to have stable, capable leadership at the helm during these challenging times," Inhofe said.
The White House sent over Braithwaite's nomination on Feb. 28, months after President Trump tweeted his plans to replace former Navy Secretary Richard Spencer with him last November. Esper said he recommended Braithwaite to Trump (Defense Daily, Feb. 28)
Braithwaite is a 27-year veteran of the Navy and Navy Reserve, starting as an aviator but moving to public affairs and rising to rear admiral in the reserves and serving as the Navy's Vice Chief of Information.
SASC Ranking Member Jack Reed (D-R.I.) is calling for a review of the situation, he said in a Tuesday statement. "I have already asked the Secretary of Defense and the Inspector General's office of the Department of Defense for a thorough review that includes an assessment of the actions of Navy leadership, both civilian and military, and what role, if any, the White House played in this matter," he said. "Congress must continue pressing for answers to ensure the health and safety of our sailors and troops comes before political considerations."
The two House Armed Services Committee leaders both issued statements in support of Modly's resignation on Tuesday.
"After mismanaging the COVID-19 outbreak on the U.S.S. Theodore Roosevelt, it became obvious that Acting Secretary Modly had forfeited his ability to lead the Navy," said Chairman Adam Smith (D-Wash.). "His actions had become a distraction at a time when we need the Navy to be focused on preserving the safety of our Sailors and maintaining the readiness of our fleet."
Ranking Member Mac Thornberry (R-Texas) said: "The change in the office of the Secretary of the Navy should allow the country to put this episode behind us and allow Sailors to focus on the very important missions at hand."
Rep. Rob Wittman (R-Va.), the ranking member of the HASC Seapower and Projection Forces Subcommittee, said Tuesday that he supports Esper's decision to accept Modly's resignation given his "recent actions."
"I believe that this move is critical to making our Navy whole again and getting back on track to address this unique readiness situation during these challenging times," he said.
As Acting Secretary, Modly starting various initiatives and took an active role while his role as the top Navy civilian was temporary. The status of these initiatives amid his ouster is unknown.
Last month, he commissioned a six-month study to examine the future of the carrier and carrier-based aviation to 2030, called the Blue-Ribbon Future Carrier 2030 Task Force (Defense Daily, March 10).
In January, Modly underscored the Ford-class carrier are very expensive and was skeptical of continuing to build additional vessels as the best choice for the long-term force (Defense Daily, Jan. 30).
Modly and the Defense Department leadership were also unable to sync timelines for finishing reports on the future Navy force.
Previously, he revealed the new Integrated Naval Force Structure Assessment (INFSA) with the Navy and Marine Corps argued for reaching a fleet size of 390 manned ships, or 435 total, when including unmanned vessels (Defense Daily, Feb. 28).
However, both the INFSA and annual 30-year shipbuilding plan report released were delayed so Esper could analyze both and see how the INFSA impacted the 30-year plan (Defense Daily, Feb. 28).
Last month, Modly said Deputy Secretary of Defense David Norquist is leading an effort to examine the overall military force structure as part of the INFSA analysis (Defense Daily, March 26).
Modly was also known for releasing weekly "Vector" messages to the Department of the Navy workforce. Every message ended with some variation of Go Navy and Beat Army, echoing the annual Army-Navy football game motto. His speech aboard the Roosevelt also ended with "Go Navy."
Modly released his final Vector, number 19, before leaving office on April 7.
In it, he said when walking on CVN-71 he lost "situational awareness" and decided to speak as if he was their commander.
"The crew deserved a lot more empathy and a lot less lecturing—I lost sight of that at the time and I am deeply sorry for some of the words and for how they were spread across the media landscape like a wildfire. I had hoped to transmit a message of love, and duty, and mission, and courage in the face of adversity. Those words are in there, but they are now lost, because of me, and I will regret that for the rest of my life," Modly wrote.
"I brought incoming fire onto our team and I am convinced that the fire will continue unrelentingly until the target is gone. I know what I have to do save the ship," he continued. "I trust you all know that and that you know how terribly sad I am right now that I disappointed you by not keeping our ship out of harm's way. It's my fault. I own it," he added.
Vivienne Machi contributed to this article.