Navy officials have been able to use the NavalX Tech Bridges to help produce equipment to deal with the COVID-19 pandemic and explained both initial successes and how they measure success going forward.
During a May 1 announcement that the Navy was adding six new Tech Bridges, NavalX Tech Bridge Director Cmdr. Sam Gray explained in recent months they worked together to produce and organize personal protective equipment (Defense Daily, May 12).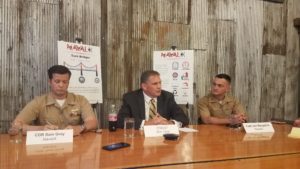 "We were able to leverage the Tech Bridge network when we came into the crisis that we're in right now. In just a month, focused on COVID efforts, Tech Bridges met on a daily and then weekly basis to connect all the teams together and find out how were people using their additive manufacturing capability, how were they able to get things on contract, how were they able to work with local FEMA reps and get things approved for medical use," Gray said.
He noted in one month, NavalX got $800,000 obligated for those efforts and, as a result, "because of all that, we saw a dramatic increase in a lot of other locations that wanted to build their ecosystem as well and have a Tech Bridge."
Last September, the Navy announced the initial five regional Tech Bridges that aim to further encourage collaboration and connections in Newport, R.I; Keyport, Wash.; San Diego; Orlando, Fla.; and Crane, Ind. (Defense Daily, Sept. 5, 2019).
Gray also said over the last nine months of Tech Bridges $45 million was obligated "through programs that were identified through the Tech Bridges through existing programs, largely through SBIR (Small Business Innovation Research) as well as a lot of rapid prototyping authorities used through ONR (Office of Naval Research)."
Gray explained $30 million of that funding was identification of future SBIR topic areas important to multiple Tech Bridges.
"They were largely in sustainment focus. These were areas where we have a newfound focus on and they knew they had projects coming but there wasn't designated funding for them. So by talking together, getting a larger group, they could go and speak directly with the Navy's SBIR office and identify focus areas for them."
The other $15 million was partially Other Transaction Authority (OTA) programs in rapid prototyping the Navy uses largely through ONR. Gray said many of those are "prize challenges that go from about a million and a half total award value spread across six to nine months."
Gray said the Tech Bridges affected that funding by taking their local ecosystems and finding out what needed programs were not being funded and helped identify whether they were prize challenges, OTAs, or SBIRs to deliver a result quickest.
"These are all largely existing programs that we're just identifying and sharing with the network how to leverage that," he continued.
Assistant Secretary of the Navy for Research, Development and Acquisition James Geurts also spoke during the expansion announcement and said the challenge in the past has been how to connect various communities for the best solutions without a centralized or collaborative node. NavalX is trying to better connect the communities for efficient solutions.
"Connecting a shipyard worker in a naval shipyard to an SBIR program at ONR is a pretty large organizational distance which travels across many different funding streams, many different organizational streams. Just culturally, I wouldn't expect those 2 communities to know how to communicate effectively to each other."
Geurts and Gray also explained a few ways they are gauging initial success with the NavalX and NavalX Tech Bridge programs, but they acknowledged it is not easy.
"It's been one of those vexing questions about you know this is not here to be in a cool space or to be able to play pinball games or something else. It's got to matter to our customer…are we making it easier to get diverse communities together," Geurts said
He noted the factors will eventually wrap into faster mission outcomes using more creative tools. However, Geurts noted one thing NavalX has already done is create standard OTA handbooks.
"OTAs are our great contracting tool but…everybody was trying to invent how to use them best from scratch and that's both inefficient and slow. So that's kind of the things I'm tracking at the strategic level."
Geurts also said he is looking at factors like the SBIR program and how it is helping the Navy find new entrants.
"So in our last SBIR BAA (Broad Agency Announcement) we had 10 times the number of applications as we did previously. I think we had 38 percent who had never [previously] applied apply. We were able to use our distributed network to assess the SBIRs at five times the speed previously done. And so all of those are then showing me we're getting a wider set of ideas that we're evaluating faster and being able to execute work quickly."
Geurts underscored that is especially useful now as the Navy and industry go through disruption and delay from the pandemic "because I'm worried that we are going to lose a lot of our smaller performers that are vital to the Navy's future."