Special Operations Command's modernization push will focus on six areas to enhance capability in the near-term, an official told reporters Wednesday, with plans to deliver sensor fusion technologies, improved platform mobility and procure next-generation intelligence, surveillance and reconnaissance tools.
Jeff Smith, USSOCOM's top acquisition official, will look for solutions to fit Special Operations Forces' rapid procurement pace while also closely following the modernization progress of organizations such as Army Futures Command.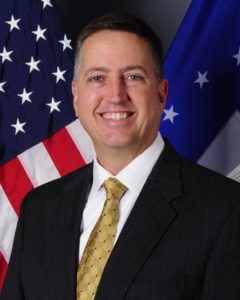 "We're much more willing to accept the COTS solution in order to rapidly put capability in our operators' hands to meet the emerging threats they're going to be seeing on the battlefield," Smith said. "That will shift slightly with the focus on near-peer competition, but not greatly. I don't think it's appropriate for SOF. I think we'll stay focused more on the near-term and let the services look deeper into the future."
Smith highlighted the Hyper-Enabled Operator focus area that he specified would not result in one specific product or program, but will instead look to create an infrastructure for spiraling in soldier enhancement technologies.
"One of the efforts under Hyper-Enabled Operator is taking all the fusion of the sensors that are available to that operator and bringing them and displaying them to that operator in a coherent, cogent manner," Smith said, adding near-term technology will look to feed data to soldiers in ways to avoid distraction during operations.
Sensor fusion, along with autonomy, will also play a central role in the next-generation ISR focus area, which Smith called a priority for near-term modernization.
"Next-generation ISR is really important to us. The biggest thing we're looking for there is that extension of fusion. We've got to untether the operator from the individual device. And we've got ensure an operator can operate several devices, several unmanned aerial or ground systems, so that operator can get back into the fight," Smith said.
On Tuesday, a SOCOM official detailed modernization priorities for the command, control, communications and computers (C4) focus area, which include integrating artificial intelligence and cloud computing for its enterprise networks and upgrading its tactical communications equipment (Defense Daily, May 12).
Additional focus areas include precision strike capabilities, such as going after new loitering munitions, and biotechnology projects that will utilize AI and machine learning for data gathering purposes.
Smith also discussed the next-generation mobility focus area, affirming SOCOM is sticking with its current fleet of major platforms while looking for capability upgrades such as new radars, survivability equipment and radio frequency countermeasures.
"Our platforms are not going to change. The mobility aspect is how do you make them more survivable and how do you ensure that those aircraft, surfacecraft, undersea-craft, have access to where we need to get them," Smith said. "For next-generation mobility, what you're seeing from us today and what you're going to see is we've got a large investment in major platforms. That's not going to change over the next five years. We mentioned MH-47s and Black Hawks. We are fully bought into [the Army's] Future Vertical Lift, but [that's] going to take awhile especially when it comes to the MH-47-sized aircraft. That [future heavy lift platform] is currently not budgeted for," Smith said.