The Army's top acquisition official said Monday a more concerted Pentagon effort to dictate standards for the Joint All Domain Command and Control (JADC2) initiative can ensure each of the individual services are developing capabilities that will help realize the future operating vision.
Doug Bush, the assistant secretary of the Army for acquisition, logistics and technology, said the budget planning process and establishing an office similar to the Joint Counter-Small Unmanned Aircraft Systems (C-sUAS) Office (JCO) are two potential opportunities for setting priorities to help drive program requirements and joint coordination to get after JADC2.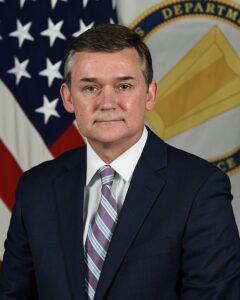 "Now having watched the Army build two budgets now from the inside, knowing what the Joint Force and the [Secretary of Defense's] priorities are, with guidance provided at the start of the [Program Objective Memorandum] process, would make a big difference in terms of actually making sure the money lands in the right place," Bush told attendees during a discussion a National Defense Industrial Association event on JADC2.
Defense Secretary Lloyd Austin approved DoD's JADC2 strategy last May, which aims to bring in joint technologies, ranging from artificial intelligence to new advanced computing tools, to build a cross-service digital architecture for future multi-domain operations (Defense Daily, June 4).
The far-reaching plan, which aims to underpin the department's Joint Warfighting Concept for future operations, incorporates initiatives such as Navy's Project Overmatch, the Air Force's Advanced Battle Management System and the Army's Project Convergence.
"Nobody, I don't believe, has brought me a 'Here's a JADC2 standard' or 'We think this program is important for JADC2 so it needs to be shaped this way.' Nobody's brought me that yet. Now, that could happen naturally as, for example, things move through an acquisition process. OSD (Office of the Secretary of Defense) has authority to tell us to build things in a certain way to help us shape requirements. It could happen in the budget process," Bush told reporters following his discussion. "To me, that's the most effective way for OSD and the Joint Staff to get us in line, because, frankly, if they orient the money onto the problem it will do it. So I think with the FY '24 budget, now that you've got the whole team in place at OSD, maybe [it happens] this time if they choose to. It would be a tool they have that I think would be very effective, because then it's our budget that we're defending on the Hill and then we own it and we have the task to do it."
Bush also cited the JCO as an example of a new entity helping to prioritize joint investments in a specific manner, citing the office as a model for an organizing body that could help drive JADC2 standards
"That kind of organizing body could be useful in terms of making sure requirements are actually stacked and prioritized and getting to the services," Bush said during his discussion.
JCO is the Pentagon's Army-led office assessing systems to defeat drones and also develop the related training and doctrine for the use of these capabilities.
The Pentagon does have a JADC2 Cross-Functional Team (CFT) that is helping to oversee implementation of the new strategy, while officials have signaled the CFT may be reshaped to meet new needs as the architecture effort moves forward.
"We have the JADC2 CFT, so that's a start. What does that evolve into? How much actual power and money does it have? That could be the precursor for something more," Bush told reporters.
Bush cited the Army's Tactical Intelligence Targeting Access Node (TITAN) rapid prototyping program to develop a future intelligence ground station as an example of a capability the service is working on that could service a key piece of JADC2.
"[TITAN] is an intel fusion capability…that will be critical to whatever JADC2 becomes," Bush said.
In late June, the Army awarded a pair of deals to Palantir Technologies and Raytheon Intelligence and Space [RTX] to deliver TITAN prototypes after both companies participated in an initial phase to work through their designs (Defense Daily, June 28).
"My perspective would be that the biggest challenge [to JADC2] is not really an acquisition challenge," Bush said. "We have a lot of flexibility in acquisition. The challenge I see is mostly one of joint coordination and design, meaning bringing together the good work the services are already doing and then integrating that in a way that's comprehensive."
The House Armed Subcommittee on Cyber, Innovative Technologies, and Information Systems' (CITI) markup for the fiscal year 2023 National Defense Authorization Act included a provision that would direct a Government Accountability Office (GAO) report evaluating the Pentagon's JADC2 plans (Defense Daily, June 7).
Committee staff told reporters ahead of the mark's release the JADC2 directive is not intended to be a "punitive, what went wrong" look at the program, but rather is focused on getting a cohesive look at the "unprecedented effort" and how Congress can best support the initiative.