As the Pentagon gets set to release requirements for the new Joint Warfighting Concept later this spring, the vice chairman of the Joint Chiefs of Staff said Wednesday a separate document will be rolled out that will define the joint data structure allowing each of the services to rapidly integrate their capabilities into a common information environment.
Air Force Gen. John Hyten said the "Information Advantage Strategic Directive" from the Joint Requirements Oversight Council (JROC), which he oversees, will detail how a common data architecture is critical to 5G efforts and maintaining technological overmatch against peer competitors.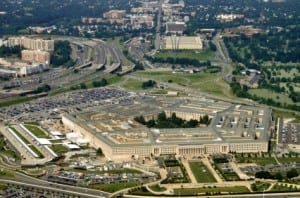 "The services don't have to come back to the JROC…they can just go, as long as they're within those lanes, as fast as they can in order to deliver the capabilities and integrate those capabilities together so they can operate in a common environment. [With this] we have an opportunity, a chance, to actually stay ahead of our adversaries in this race to dominate data and to dominate the battlefields of the future," Hyten said during a keynote address at a virtual AFCEA event on 5G technology.
Hyten has previously said the Pentagon must solve its data management challenges by 2030 and look to move away from having a service develop a capability and then JROC validating that it can meet joint interoperability requirements for data (Defense Daily, Sept. 9).
The soon-to-be-released Joint Warfighting Concept will look to address how the Pentagon can better assess its data requirements for bringing information to the tactical edge, means for making data secure and easily accessible and how to construct the required transport layers for moving data.
"The space transport layer we have right now is actually easily identified and, therefore, easily denied. So we have to figure out how to build a more survivable, more robust, more resilient space transport layer and move with it quickly," Hyten said. "If we're pushing these huge packets of data through this 5G network early on and it starts to degrade as we get out toward the edge, we have to decide what data goes forward to the edge. That is an unbelievably complicated problem."
On 5G, Hyten said the Pentagon must continue to look at the commercial sector as the main driver of innovation while the department works on the data elements to best operate on future networks.
"If we get focused on 5G as a military, we're going to lose. Now, we have a role to play, and it is a critical element for this country, but most of that work is done by the commercial sector. We have to work with the commercial sector. We have to help drive the commercial sector. But [they] will work a lot of the 5G pieces. What we have to worry about is that data structure," Hyten said.