The Pentagon is aiming to tackle its challenge of managing and best exploiting the massive amount of data it collects by 2030, alongside a new push to issue joint data requirements from the top down.
Air Force Gen. John Hyten, Vice Chairman of the Joint Chiefs of Staff, told attendees during a recent Defense Innovation Unit discussion the 10-year goal is about solving the challenge of ensuring "everyone has the right data, but not all the data," with a new model aligned with industry best practices.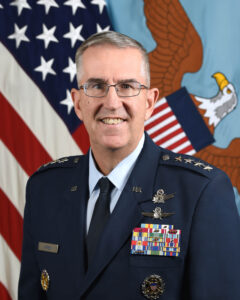 "I want to know where the data is, and how you decide what data gets pushed and what data gets pulled," Hyten said. "I have committed to the secretary [of defense] that after the Joint Warfighting Concept is published, ideally in December, shortly after that we will begin publishing these joint requirements out to the services. And one of them will be for data. That will allow us to manage [data] from a top level, from a capabilities and attributes perspective."
Hyten, who oversees the Joint Requirements Oversight Council, said to best support the future Joint All Domain Command and Control effort there is support for moving away from having a service develop a capability and then JROC validating that it can meet joint interoperability requirements for data.
"One of the ways we're going to do that is we're going to write joint requirements for Joint All Domain Command and Control. We're going to write those requirements and push those out to the services and then manage the services' ability to meet those," Hyten said.
Requirements that could be pushed from JROC down to the services will include data, as well as software attributes, to ensure future capabilities are fully interoperable as the Pentagon moves forward on the new Joint Warfighting Concept.
"We're going to have requirements for data, requirements for software. And they're not going to be the traditional requirements that you've looked at for years…they're going to be capabilities and attributes that programs have to have. If you don't meet these, you don't meet the joint requirements, then therefore you don't get through the gate and you don't get money," Hyten said.