The Pentagon will implement program cuts to find cost savings with its "Fourth Estate" agencies on a rolling basis in a new cost savings effort the defense secretary wants to implement across the department, according to the DoD spokesman.
Jonathan Hoffman, assistant to the secretary of defense for public affairs, told reporters Monday Secretary of Defense Mark Esper has already completed an initial review with plans to make decisions continuously rather than wait until the end of a fiscal year to finalize programmatic cuts.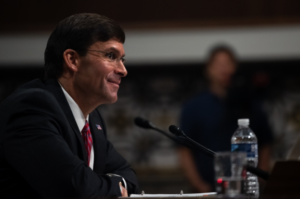 "It's going to be an ongoing process. If he sees a program that needs to end or needs to be moved, he'll make that decision as quickly as he can," Hoffman said. "If he identifies changes that would save money, there's no interest in waiting until next year to start saving money."
Esper's approach is similar to the "night court" process he started in his previous role as the Army secretary, where senior officials found $33 billion the service could shift from low priorities to modernization efforts over the next five years.
Last month, during his first press briefing, Esper said he would look to initiate a "defense-wide review process" starting with DoD's Fourth Estate, which includes offices such as the Defense Intelligence Agency, DISA and the National Reconnaissance Office (Defense Daily, Aug. 30). 
"The different offices that have Fourth Estate equities, they'll do their own internal reviews to look at projects. There's assessment from others within the department, maybe identifying cost sharing or cost savings that they think are possible," Hoffman said, describing the review process.
Proposed opportunities for cuts and costs savings will then be brought to the senior DoD level, where the secretary will host a review with the relevant parties associated with the potential programs and their Fourth Estate partners. 
The Pentagon has not specified if there is a target amount to be saved or if the dollar amount associated with any programmatic cuts up to this point.
Hoffman noted that Esper plans to keep Congress fully informed before any changes are implemented as a result of the review process.
Esper has previously said he plans to work with leadership across the military branches to look at implementing a similar process over time.