Defense Secretary Mark Esper acknowledged the recent spate of several high-level Pentagon officials announcing plans over the last week to leave the department, citing the "burnout" associated with such positions.
"The constant churn, it happens, it's the nature of these jobs. They're demanding jobs. They burn people out very quickly. So it's something you have to continue to deal with," Esper said.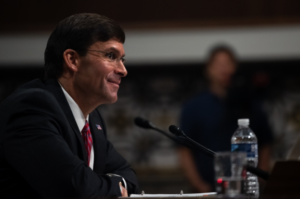 Esper's comments arrive after five Pentagon officials confirmed their departure plans, including Steven Walker, the director of DARPA, Jimmy Stewart, a top personnel official, Kari Bingen, an intelligence official, Randall Schriver, the lead for Indo-Pacific policy effort, and Tina Kaidanow, a senior adviser on international cooperation.
Walker's resignation with DARPA is effective Jan. 10 as he moves on to a defense industry job, an agency spokesperson confirmed to Defense Daily earlier this week (Defense Daily, Dec. 17).
The Senate on Thursday did confirm three officials for Pentagon positions: Lisa Hershman as chief management officer, Dana Deasy as DoD CIO and Robert Sander as the Navy general counsel.