The secretary of defense's chief of staff, Eric Chewning, will leave his position at the end of January and return to the private sector, becoming the latest senior Pentagon official to announce their resignation plans over the last several weeks.
Chewning, who was previously the department's top industrial policy official, will be replaced by Jen Stewart, currently the House Armed Services Committee's minority staff director.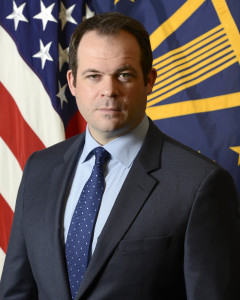 "I'm grateful for Eric's professionalism, judgment, and leadership over the last seven months as I moved into the Secretary of Defense role," Defense Secretary Mark Esper said in a statement. "In an incredibly demanding job, Eric has been a source of calm and tireless work. He will be missed by all. We wish him all the best upon his return to the private sector."
Before joining the Pentagon, Chewning was a partner with global consulting firm McKinsey and also previously served as an Army intelligence officer.
During his time as deputy assistant secretary of defense for industrial policy, a role he took on in October 2017, Chewning pushed for new incentives to ensure the largest defense contractors continue developing future technologies, such as hypersonics and artificial intelligence, in the U.S., rather than abroad. (Defense Daily, Nov. 26 2018).
Chewning is the sixth high-level official to leave the department over the last several weeks, with Esper citing "burnout" for the turnover associated with such positions (Defense Daily, Dec. 20). Recent resignations include the department's Indo-Pacific policy lead, the director of DARPA, the senior adviser on international cooperation and others.
"The department continues to bring in high quality personnel into leadership positions. This week three new Senate-confirmed appointees will be sworn in, while three nominees await Senate action, and additional nominations are expected in coming weeks," Alyssa Farah, the Pentagon press secretary, said in a statement. "Also this week, four new senior [Senior Executive Service] appointees will be sworn in, joining approximately a dozen senior SES leaders brought into the department in the last few months of 2019."
Stewart, set to replace Chewning, previously served as senior adviser to former Joint Chiefs Chairman Marine Gen. Joseph Dunford and as the national security adviser to former Speakers of the House Paul Ryan (R-Wis.) and John Boehner (R-Ohio).
"I have known Jen for years and I'm excited to bring her into the Department," Esper said. "Her deep expertise on national security issues will be a great addition to our team as we continue implementing the National Defense Strategy."
Rep. Mac Thornberry (R-Texas), the HASC ranking member, said Dan Sennott, the current Republican staff for the Subcommittee on Military Personnel, will replace Stewart as the minority staff director.
"I am deeply grateful for Jen's service to the Committee. She is a professional and a patriot. My colleagues on both sides of the aisle and I have come to rely on her insights, dedication, and talent. I am excited about the year ahead with Dan leading the staff. The committee has a tremendous number of issues on our plate, and with Dan's assistance, I am confident we will address them while keeping our focus where it belongs — on our men and women in uniform," Thornberry said in a statement.
Chewning's resignation plans were first reported by Defense News.