Defense Secretary Lloyd Austin said Wednesday he's "concerned" the department does not have a permanent acquisition chief in place, adding he's working with the White House on identifying a candidate to lead the office.
Austin's remarks arrive after Michael Brown, director of the Pentagon's Defense Innovation Unit (DIU), withdrew his nomination to be the next under secretary of defense for acquisition and sustainment (A&S). Additionally, media reports have confirmed that Stacy Cummings, who is serving in acting capacity, is planning to leave the department soon.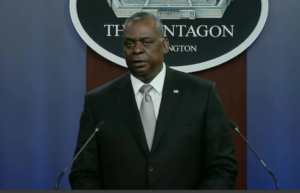 "Of course, I'm concerned about the A&S position that you mentioned. And, absolutely, we'll provide another name for the White House to consider. But that's an ongoing process," Austin told reporters during a press briefing. "I consider that job to be very, very important."
Austin noted, to date, six senior defense officials have been confirmed, another 10 are awaiting a final vote and five more are still set to be considered by the Senate Armed Services Committee.
"Regarding the numbers of people that we've had confirmed thus far, certainly we'd like to see more. This is something that the deputy secretary and I, and all of our leadership, remain focused on each and every day, and we continue to work with the White House to make sure that we have quality and qualified applicants to fill these seats," Austin said.
Brown sent a letter to Austin last week regarding his intent to withdraw from consideration for the position, saying his decision is related to an ongoing investigation by the DoD inspector general into his personnel practices at DIU that could delay consideration of his nomination by up to a year (Defense Daily, July 14).
Pentagon spokesman John Kirby also confirmed last week that Brown remains in his role as the DIU director.
Brown has led the Silicon Valley-headquartered DIU since 2018, which looks to bring in start-ups and smaller companies to work with the Pentagon on emerging technology areas.