The Army is planning to fly an autonomy-enabled Black Hawk helicopter, using technology developed in a DARPA program, at its next Project Convergence event, as the service looks to refine requirements for pursuing the technology on its Future Vertical Lift (FVL) fleet.
"We've always said our aircraft will be optionally-manned, that's part of our objective requirements. And we're exploring that tech development path in [science and technology] efforts," Maj. Gen. Walter Rugen, director of the FVL Cross-Functional Team, told reporters on Wednesday. "It's a very exciting space. We do want capabilities that machines can do better than our aviators."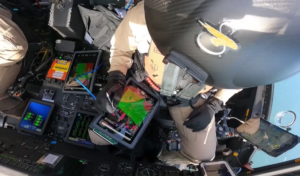 Rugen said the next Project Convergence event, which will take place this fall at Yuma Proving Ground in Arizona, will involve using the Aircrew Labor In-Cockpit Automation System (ALIAS)-enabled Black Hawk to run an emergency resupply scenario to inform concept development.
Project Convergence is the Army's ongoing campaign to understand how the service's future weapon systems and capabilities across the joint force could form a new "sensor-to-shooter" network required for multi-domain operations against peer competitors.
Lockheed Martin's [LMT] Sikorsky has worked with DARPA on the ALIAS autonomy co-piloting technology over the last several years, which aims to reduce pilot workload, allowing operators to focus on mission management over flight operations, and capability for sharing critical data among the AI-enabled platforms near-simultaneously.
Sikorsky has integrated ALIAS on a UH-60A and flown the aircraft using the Optionally-Piloted Vehicle software and late last year the company used its S-70 OPV Black Hawk to demonstrate complete supervised autonomy capabilities for the first time (Defense Daily, April 2). 
Brig. Gen. Rob Barrie, the Army's Program Executive Officer for Aviation, also told reporters his office has been fully engaged with DARPA on the progress of ALIAS to help inform the path for exploring autonomy on the eventual FVL platforms.
"I had the opportunity to actually fly in that aircraft a few months ago. I think the benefit to all of us, as we proceed, is about refining our requirements and our understanding of how autonomy will be engaged operationally on the aircraft and technically how we integrate the sensors and software," Barrie said. "I'm very pleased to see [ALIAS] continue in development and look forward to the results at [Project Convergence]."
Igor Cherepinsky, director of Sikorsky Innovations, has previously said ALIAS is not intended to replace human pilots aboard the aircraft, but rather provide AI-enabled assistance while in flight and during complex operations, such as landing in low-visibility conditions.
Cherepinsky said Sikorsky is also planning to demonstrate the ALIAS and OPV technologies on a UH-60M as well as conducting a test to fly Black Hawks in formation using the technology in 2022.
Sikorsky is currently offering the Raider X prototype for the Army's Future Attack Reconnaissance Aircraft competition and has partnered with Boeing [BA] to offer Defiant X for the Future Long Range Assault Aircraft program, with both FVL efforts expected to make use of autonomy capabilities.
Bell [TXT] told reporters it has previously conducted successful autonomous test flight of its V-280 Valor tiltrotor aircraft, which its offering for FLRAA (Defense Daily, Jan. 9 2020).