Sikorsky [LMT] said this week it recently demonstrated an autonomous test flight of a UH-60 Black Hawk with an onboard pilot supervising using co-piloting technology on a tablet.
Igor Cherepinsky, director of Sikorsky Innovations, told Defense Daily
the test in late 2020 with the S-70 Optionally Piloted Vehicle (OPV) Black Hawk will be followed by a demonstration on a UH-60M and test to fly Black Hawks in formation using the technology in 2022.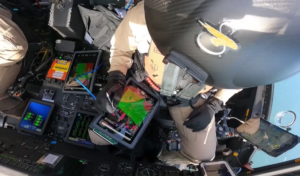 "This was the first time the OPV Black Hawk demonstrated complete supervised autonomy capabilities with the operator using an updated tablet interface – including automated engine start-up and autonomous take-off, landing and two simulated obstacle courses," Cherepinsky said.
The supervised autonomous flight builds on the company's work developing the Aircrew Labor In-Cockpit Automation System (ALIAS) for DARPA, with a goal for informing how the technology could reduce pilot workload across Army helicopters, including the Future Vertical Lift (FVL) platforms.
"With ALIAS, there is the potential to transform how aviators and air crews execute their critical missions; operators can fly their aircraft safely, reliably, confidently, and affordably, even with reduced crew and limited visibility," Sikorsky wrote in a statement.
Sikorsky is currently offering the Raider X prototype for the Army's Future Attack Reconnaissance Aircraft competition and has partnered with Boeing [BA] to offer Defiant X for the Future Long Range Assault Aircraft program, with both FVL efforts expected to make use of autonomy capabilities.
"We designed Raider X and Defiant X to compete in highly complex, [Joint All-Domain Operations] environments. Our advancements in automation and autonomy will enable aircrews to focus on the mission, not just flying the aircraft," Jay Macklin, business development director for Sikorsky Future Vertical Lift, said in a statement. "Our approach reduces pilot and crew workload by offloading certain mission tasks, enabling better situational awareness of the overall mission while providing extended operational capability and increased safety."
The plan to demonstrate the OPV technology on Black Hawks flying in formation in 2022 will look to prove out ALIAS' ability for sharing critical data among the AI-enabled platforms near-simultaneously, Cherepinksy previously told reporters (Defense Daily, Nov. 13).
Cherepinsky has said ALIAS is not intended to replace human pilots aboard the aircraft, but rather provide AI-enabled assistance while in flight and during complex operations, such as landing in low-visibility conditions.