President Biden announced on Friday evening he has nominated Michael Brown, the director of the Pentagon's Defense Innovation Unit, to serve as the department's top acquisition official.
Biden also announced he has nominated Mike McCord to serve as the Pentagon's comptroller, a role he held during the Obama administration, and Ronald Moultrie, a former direction operations at the NSA, to be the under secretary of defense for intelligence and security.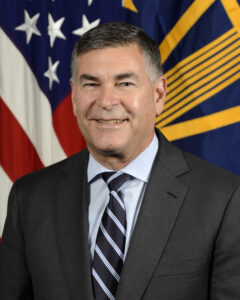 Brown has led DIU since 2018 with the administration noting that during his tenure the Silicon Valley-headquartered office has "doubled the number of projects underway, transitioned 26 new capabilities to warfighters, doubled company participation in projects and introduced 70 first-time vendors to the Defense Department."
Before his current role, Brown served as a White House Presidential Innovation Fellow at the Pentagon and helped lead efforts to create the National Security Innovation Capital effort aimed "at catalyzing private investment in dual-use hardware companies to diversify the supply chain with U.S. technology."
Brown has also been the CEO at two public Silicon Valley technology companies, the cyber security firm Symantec and disk drive supplier Quantum.
McCord would return to his role as the department's chief financial officer, which he previously held from June 2014 through the end of the Obama administration.
The former DoD comptroller is currently the director of civil-military programs at at the Stennis Center for Public Service an adjunct research staff member at the Institute for Defense Analyses, a trustee of The Aerospace Corporation, and a fellow of the National Academy of Public Administration, according to the White House
Moultrie, who is currently the CEO of Oceanus Security Strategies, would return to public service as the department's top intelligence official after stints in senior NSA, CIA and Office of the Director of National Intelligence roles.
"Moultrie was a key principal on the Secretary of the Navy's Cybersecurity Readiness Review and subsequently led the creation of the Department's digital roadmap focused on cybersecurity, data, and emerging technologies such as AI, 5G, and Quantum computing," the White House wrote in its announcement.