Michael Brown, director of the Pentagon's Defense Innovation Unit (DIU), has withdrawn his nomination to serve as the next under secretary of defense for acquisition and sustainment, a department spokesperson confirmed Wednesday.
In a letter to Defense Secretary Lloyd Austin, Brown said his decision is related to an ongoing investigation by the DoD inspector general into his personnel practices at DIU that could delay consideration of his nomination by up to a year.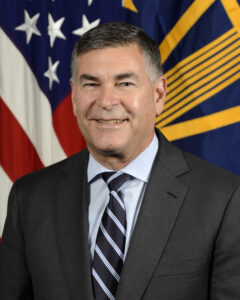 "While I am confident the Office of Inspector General will ultimately find no wrongdoing on my part, I know there are other qualified candidates who can focus on the urgent business of making our acquisition processes faster and more cost-effective. I must put my interests of the department above my own enthusiasm for serving as the under secretary for acquisition and sustainment," Brown wrote in his letter, according to a copy obtained by Defense Daily.
Pentagon spokesperson John Kirby confirmed news of Brown's decision, first reported by Inside Defense, during a press briefing and said Brown remains in his role as the DIU director.
"I have no personnel changes to announce. He is still the director of DIU," Kirby said.
Brown, who has led DIU since 2018, also indicated in his letter that he intends to remain at the helm of the Silicon Valley-headquartered office that looks to bring in start-ups and smaller companies to work on emerging technology areas.
"I look forward to continuing to support rapid acquisition and increased adoption of leading-edge commercial technology in my current role as director of [DIU]. I am proud of what the DIU team has accomplished in recent years, and we have much important work ahead as we continue to challenge the status quo in delivering new capabilities for the warfighter," Brown wrote.
President Biden announced Brown's nomination to be the Pentagon's top acquisition official in April, noting he had previously helped lead efforts to create the National Security Innovation Capital effort aimed "at catalyzing private investment in dual-use hardware companies to diversify the supply chain with U.S. technology" (Defense Daily, April 2).
Brown has also been the CEO at two public Silicon Valley technology companies, the cyber security firm Symantec and disk drive supplier Quantum.