Lockheed Martin's [LMT] Sikorsky is planning a flight demonstration with the Army next year that will utilize the company's autonomous co-piloting technology on UH-60 Black Hawks flying in formation, a company official told reporters on Thursday.
The flight tests will likely take place in late 2021 and build on the company's work developing the Aircrew Labor In-Cockpit Automation System (ALIAS) for DARPA, with a goal for informing how the technology could reduce pilot workload across Army helicopters, including the Future Vertical Lift platforms.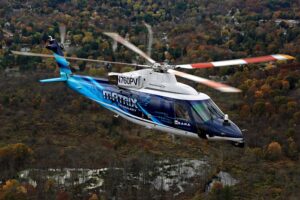 Igor Cherepinsky, director of Sikorsky Innovations, told reporters the company's recent award for ALIAS Phase II will include integrating the Optionally-Piloted Vehicle (OPV) software on the UH-60M and then flying that aircraft in formation with the company's own S-70 aircraft, or UH-60A, and the S-76B Sikorsky Autonomy Research Aircraft (SARA).
The demonstration will look to prove out ALIAS' ability to reduce pilot workload, allowing operators to focus on mission management over flight operations, and capability for sharing critical data among the AI-enabled platforms near-simultaneously.
ALIAS is not intended to replace human pilots aboard the aircraft, Cherepinsky specified, but rather provide AI-enabled assistance while in flight and during complex operations, such as landing in low-visibility conditions. 
Sikorsky has already integrated ALIAS on a UH-60A and flown the aircraft using the OPV software, and a first flight with the UH-60M will likely take place early next year, according to Cherepinsky.
The Army's interest in reducing cognitive burden on its pilots extends to its Future Vertical Lift effort, which Sikorsky is working on in developing the Raider X prototype for the Future Attack Reconnaissance Aircraft (FARA) program and partnering with Boeing [BA] on the SB-1 Defiant platform for the Future Long Range Assault Aircraft (FLRAA). 
"Everything that's happening here is going into both of our FVL vehicles. And not just our FVL vehicles, it's going across our entire product line," Cherepinsky said.
Bell [TXT] told reporters previously it has previously conducted successful autonomous test flight of its V-280 Valor tiltrotor aircraft which its offering for FLRAA (Defense Daily, Jan. 9).